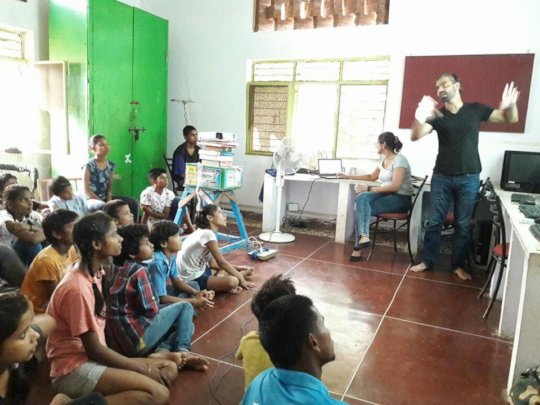 In 2017-18, Karm Marg faced a big financial crisis due to various reasons, especially for salaries and maintenance which are imperative to run an organisation. In the last few years, we've seen our regular funding go down from different sources as most of it was under a contract period. In the last year, we've lost out on the amount of total funding from abroad due to the fluctuating rate of exchange. We have a lot of friends in India and abroad who give us regular funding, but unfortunately the rising salaries and infrastructural costs are way much more than what we are receiving.
We explored various options to raise funds and finally decided to raise funds through crowd funding and sending proposals to various CSR projects for long term sustainability grants.

For our current needs, we applied to the Team India Cares for online crowd funding while participating at the Airtel Delhi Half Marathon 2017. It was a new experience for all of us but as time progressed, we became more proficient at connecting with people and raising funds. The last date for fund raising is 30th of November 2017 and marathon will take place on the 19th of November 2017. We will update you soon on our experience and the success we had in raising funds from the marathon.
Success story
Manish and Sapna from Market Xcel have dedicated every Saturday from their busy schedule for the past three months, to spend time with the Karm Marg children. Manish, the director at Market Xcel, started teaching computer classes to all the young adults and Sapna teaches spoken and written English.
They are extremely dedicated and in their own words, and love teaching the KM kids. And they have endeared themselves to the children so much, that all the children wait for them with great anticipation every Saturday.
Thanks a lot Sapna and Manish for choosing our organization and helping the children.
Donors
"Bindaas" lit up the life of our children, by giving 17 pieces of solar lanterns. Now studies are more fun at night and the children can utilise the evenings for studying, since we've always had long power cuts and children have not been able to study in the evenings. Thanks a lot Meeta, for giving a big smile on our children's faces.
Thanks to Preeti, Ritika, Sonia and Dev Kumar, for donating the beautiful clothes and shoes. They will be of great help as winter is approaching now.
Thanks to Naniji, Kopal Rohtagi Bansal, Chetan Kumar, Deepak Kumar and Ritika for sponsoring the "Special Meals" on their special days.
And thanks to Sonu, our dance teacher and friend, who has gifted us a music system for the children on his birthday.
Thank you Sabah Hamid and Priya for donating dvd players and movie dvds to KM. By choice we don't have a TV Connection to watch regular tv shows, so the children are happy to see new movies on the new dvd players every Saturday.
Thanks to all who've helped us on the financial front…Sunny Narang, Aditi Aggarwal, Kopal Rohtagi Bansal and many more friends and supporters.
Beneficiaries at Karm Marg
Total number of children stayed at home during this quarter – 54
Children stayed at home for short period – 4
Total number of young adult enrolled in skill training – 19
Local community children enrolled in Library project – 180
Youth above 18 start living independently after getting Job - 5

Update from home
During the summer holidays, in June, all the children participated in dance, theatre and other various in-house activities. We called all the close friends and supporters on July 10th and children performed a dance and theatre play in front of this small gathering.
After finishing school, Babli started teaching yoga to all the children at KM, with the help of Teena. Both of them are very good in yoga. Babli went for two months to learn yoga at "Space for Nurturing Creativity", Uttarakhand, a home schooling project.
Rihana, our special needs care taker, who is learning computer form Manish ji, started taking computer classes for the special needs young adults. Children love painting and typing on the computer. It is so much fun for them.
Our dance group of 8 children presented two shows, one at the India Habitat Centre and second at Taj Vivanta hotel under the tutelage of Himani, who runs the "Sutra Studio" in Faridabad.
"Pravah" (A Delhi based NGO) tied up with us for a local community visit for Bluebells School, a Delhi based private school. Students were shown village life and the basic infrastructure of a village. They visited the local government schools, the government hospital and Karm Marg.
Our favourite story teller, Tanushree took storytelling session, with the theme to make your own story.
Our children actively participated at their school functions. They presented a play which was a combination of the issue of air pollution, dance and yoga. All the teachers and guests really liked the show and appreciated their talent.
Festivals
Independence Day, Flag Ceremony at KM
"Rakhi" (kind of wrist band which is tie by sisters on their brother hand) a festival of brothers and sisters was celebrated at KM with great fanfare, where the children made their own rakhis for their loved ones. We don't celebrate this festival as a sister and brother one, we tie rakhis to all the ones we love and care about.
Dussera also known as Vijayadashami is an important festival in India. It celebrates the victory of good over evil. Children constructed Ravan, Kumbhkaran and Meghnad as evil symbols and burnt them in the evening.
After the Monsoon, we had start sowing veggies and fruits for winter season. Now we have almost grown all veggies in our vegetable garden through natural way without using any outside fertilizer or chemical.
Jugaad – skill training and income generation program
This quarterwe started meeting our old buyers and some new ones to talk about how they can engage with the Jugaad project, to get more work for the youth and women's group we work with. As a result, we got some good orders and donations of the raw materials, we can use.

We have also been busy with making new samples for the upcoming season, especially for the festivals of Rakhi and Diwali. Till August, we have mainly been busy with the Rakhi production and almost sold it for worth Rupees Fifty thousand. After that, we started Diwali gifting product sampling and production.

As festive session started from September onward, we start planning and approaching different platform to showcase and sell our product to help and give job to more rural women and youth from Karm Marg.
Around 40 rural women and 4 youth and three specially abled youth from Karm Marg are involved in the production.
19 young adults have been participating in on-going skill training program.

Four young girls from Karm Marg have started full time production, designing and supervision work at Jugaad after finishing their training. Shama and Ruksaar have start designing and producing Rakhi and Jewellery out of waste cloth and also become a trainer at Jugaad. Tara is looking after stitching unit, her main job is to look after the raw material stock and women payment account. Vertha is doing cloth bags production.

Three of our special need youth are finished their training and enrolled in production under observation and guidance in paper and screen printing unit.