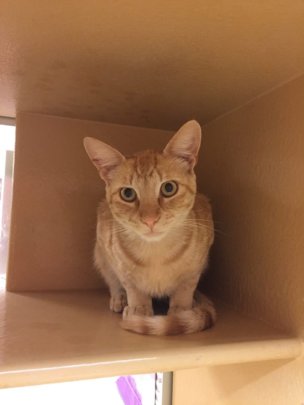 Happy Summer, from your friends at Cat AdopTion Service!
Today I heard a special story about one of our rescue cats who is very lucky to be with us! Charmeleon, as he is now named, was left by some very uncaring people at a random barn. The cat would have had little chance of surviving in this location, as it was near a busy road, frequented by coyotes, and next to a large dog kennel. Fortunately, the night he was dumped, the owner of the barn came to do her nightly rounds, and Charmeleon is so people-loving that he took the first opportunity to introduce himself. This kind lady picked up our snuggly cat, took him home, and then called us. Charmeleon is now in a loving foster home awaiting adoption by a family who will treasure him forever. Thank you for all your support for our work saving the sweet animals who people wantonly discard. Without your donations, we would not have the funds to rescue and care for so many cats until they are adopted by worthy owners. You can also help us prevent stories like this one of disgarded animals by spay/neutering your pets and teaching your friends, family, and neighbors to do the same!
The cats of San Diego County and all of us at San Diego Cat AdopTion Service thank you!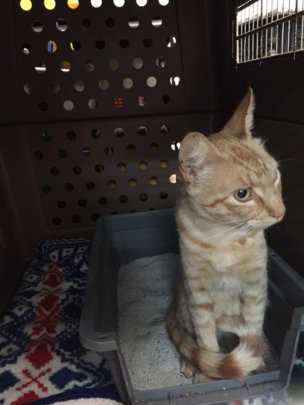 Links:
Spring has sprung in San Diego, which means we are well into kitten season! At San Diego Cat AdopTion Service, we are working around the clock to keep up with all the babies! Some of our kittens come with their mothers, but many others are orphans. Five such orphaned kittens were recently rescued from an apartment complex in Orange County where over 40 cats have been abandoned and are roaming free without food, water, or a safe place to sleep. The five kittens will be fully vetted and cared for by our loving foster parents until they find an adopter. We are working on trying to trap and spay or neuter the remaining cats and either take them into rescue, or place them with a feral caretaker if they are too wild.
This time of year especially, we depend on our dedicated volunteers who foster kittens. They spend countless hours providing tender loving care to orphaned or abandoned kittens--sometimes working through the night to care for sick or weak kittens. We all love our work with cats and kittens, but we depend on your help to afford supplies for so many animals! As anyone who has owned or cared for kittens knows, the amount of food and litter it takes to nourish and care for a kitten is not at all proportional to their small size! Please continue to help our cause and save the lives of these sweet cats and kittens!
Thank you!
Links: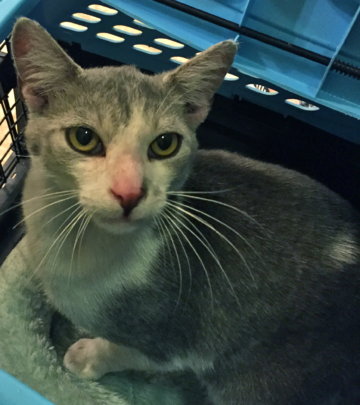 Hello dear supporters, and happy 2016 from all of us at San Diego Cat AdopTion Service (CATS)!
It is hard to believe another year has passed. 2015 was a very productive year for CATS. All in all we took in 620 cats and found permanent, loving homes for 550 cats. Making the difference in the lives of that many wonderful animals takes a huge amount of time, care, and resources. As a supporter, your donation helped make it possible! We rely largely on monetary donations from supporters like you to make up our budget each year; your donation pays for food, litter, medical supplies, vaccines, vet care, and perhaps most importantly- spay/neuter surgeries. No one in our organization is paid- we rely soley on our huge team of amazing and dedicated volunteers! Whether they foster kittens or cats, work at our in-store adoption facilities, or participate in trap/neuter/release activities, all of our volunteers do what they do because they love cats and want to end the suffering of countless abandoned animals. We know you care about cats the same way, which is why you give. You can also contribute by talking to your neighbors, friends, and coworkers about spaying/neutering their pets! A world with no homeless animals is possible if everyone is responsible for "fixing" their pets, so please share what you know!
One of the many precious lives we saved this year is Lynwood, a very sweet kitty who was dumped in an alley by his owners and started approaching strangers, begging for help. As a young and friendly kitten, he had no "street smarts," and surely would not have survived for long. However a compassionate stranger called CATS and we were able to send volunteers to rescue Lynwood. He is now vetted, and healing from a few scratches in a loving foster home. Soon he will find a forever family and start a new and wonderful life.
Thank you again for making 2015 a successful year at San Diego Cat AdopTion Service! We appreciate your support and hope you will continue to consider us and the homeless cats of San Diego County in the new year!
Links:
WARNING: Javascript is currently disabled or is not available in your browser. GlobalGiving makes extensive use of Javascript and will not function properly with Javascript disabled.
Please enable Javascript
and refresh this page.