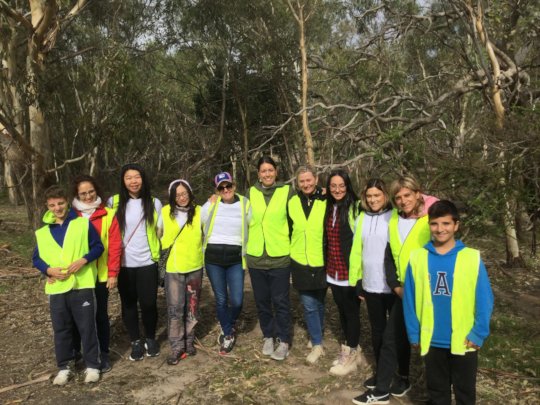 We will start off with habitat conditions at Woodlands Historic Park in this update. Excellent news on the rainfall front. Even though we had a typical hot summer here in Victoria, Woodlands got average rainfall throughout the summer period. This has changed the entire landscape. In some areas the grasslands are almost knee high. We have had around 90% recovery of all the grasslands. They can only get better from here as well as the plants are around half their size. It won't be until January/February 2021 that they are at full size, but they will continue to grow until then.
The biproduct of this growth is the invertebrate insects have returned in high numbers, providing plenty of food for the bandicoots. So now there is suitable grassland habitat right across the park, for a boom of bandicoot breeding to take place from now on. Something we have been very much looking forward to after years of drought and grass dieback. Our fence patrol program continues daily with early morning checks to ensure the integrity of the fence and the protection of the bandicoots from any predators.
The other programs assisting our good weather season has been the continued work on rabbits and weed control. The extensive rabbit warren destruction has seen a reduction in their numbers which has led to reduced grazing pressure on the grasses. And now that the native grasses are at suitable bandicoot habitat size, weed grass species have been heavily focused on by staff and all the volunteers. Also contributing to less competition for the natives to thrive.
New wildflower planting plots are currently being built to really diversify the plant species this year. Around 15 new wildflower species (9000 plants in total) will be reintroduced and planted from July onwards. This is a very exciting stage in grassland restoration out here. Your continued support allows for these works to occur.
The ground is still quite hard here, but after some heavier rainfall events, bandicoot digs have been widespread as they look for food. So, in a months' time when it starts to cool down and more rainfall arrives we are expecting to see that breeding, through the cooler months, really takes off.
So, it's a very exciting stage coming up at Woodlands. We hope to see plenty of mother bandicoots running around with their baby (young at foot) animals in the night times ahead.
Once again great work everyone involved from Conservation Volunteers Australia, Parks Victoria, volunteers and all members of the Eastern Barred Bandicoot Recovery Team who have assisted with making this possible. Most importantly the continued financial commitment from our donors through GlobalGiving is essential in allowing us to protect and grow the species numbers.
THANK YOU again and we look forward to your ongoing support.

Travis Scicchitano,
Woodlands Project Officer