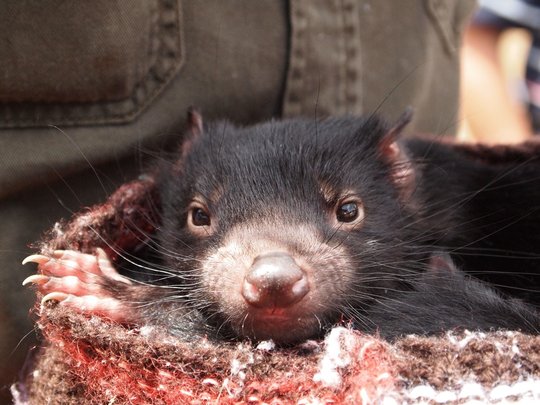 Things have been busy for the Conservation Volunteers Tassie Devil team! In Tasmania, our work at Bonorong Wildlife Sanctuary and teams of enthusiastic volunteers have finished the new enclosures as part of the 'Nurturing the Tasmanian Devil' project, providing Tasmanian Devils involved in the breeding program more space and shelter.
A sense of smell is really important for Tasmanian Devils. Scent provides a main way for individuals to communicate with each other and is one of their most important senses for their survival. To maintain good enrichment for the Tassie Devils at Bonorong, the volunteer teams have built a number of crucial structures in the enclosures, including digging mounds and sniffing platforms so that the Devils can utilise their natural behavioral characteristics and communicate with each other. Check out the photos to see what the new Devil Digs look like! What a wonderful place for Devils to retire after the breeding program!
The prognosis for wild Devils is sadly not so rosy, with scientists estimating a possible wild population extinction within the next decade. Creating and managing these captive breeding and insurance populations of Tasmanian Devils is paramount to enable to species to survive should the wild population completely succumb to the deadly Devil Facial Tumour Disease (DFTD) and disappear from the forests of Tasmania altogether.
Your generous support has made these enclosures possible - a crucial part of the expanding captive breeding programs to ensure that this species survives well into the future. More collaborative talks are underway with other wildlife parks on mainland Australia as part of the Tasmanian Devil Program for Conservation Volunteers, giving this species an even greater chance of survival and a Wild Future! Every action counts and every moment counts - so we greatly appreciate your support to save the Tasmanian Devil and look forward to your continued involvement in this fantastic program!
Links: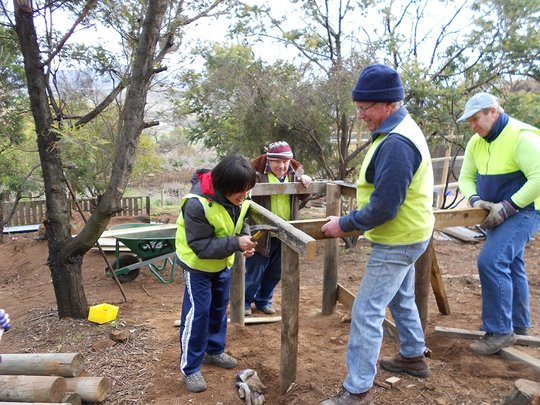 Our exciting project to help look after Tasmanian Devils has continued over recent weeks at the Bonorong Wildlife Park on the northern outskirts of Hobart in Tasmania.
With a focus on ensuring there is a healthy future for Tasmanian Devils, volunteers are helping to build holding pens for them. This is a long term project that will make a genuine contribution towards the preservation of this iconic Tasmanian creature, as well as other wildlife. For Tasmanian Devils in particular, the new enclosures will help keep healthy Devils safe and sound, and hopefully allow them to breed and increase the population. Alongside the Tassie Devil pens, and funded independently of our Global Giving project, our volunteers have also been building additional holding enclosures for native animals like wombats and quolls.
Both you and the volunteers have made a great contribution so far, and there is still plenty more to be done. We've added some pictures to show you our progress - and thank you again for your generous support of this important conservation project.
Links:
Thanks for your valuable efforts in assisting our Tasmanian Devil Recovery project as part of Conservation Volunteers Australia's Wild Futures program!
It's been a busy few months for the Devil team in Tasmania, with works started on building and maintaining enclosures at Bonorong Wildlife Park. Made from sustainable, recycled materials these enclosures will keep healthy Devils safe and sound and allow the captive breeding program to expand. With much of the wild population of Tasmanian Devils at risk from the deadly Devil Facial Tumor Disease, it is vital that an insurance population of healthy Devils is carefully managed through captive breeding to ensure the species' survival.
Concurrent to our ongoing work on the breeding enclosures at Bonorong Wildlife Park in Tasmania, our attention now turns to assisting in providing a healthy and safe environment for quarantined Tasmanian Devils on the Australia's mainland. Conservation Volunteers Australia will assist in habitat maintenance for a population of disease-free Devils being housed in New South Wales to further boost population numbers of healthy Tasmanian Devil individuals.
A big thank you to everyone that has donated so far - you are making an important difference in the survival of one of Australia's most treasured species. Don't forget that you can continue to assist this ongoing recovery project and we thank you for your kind contribution to the Tasmanian Devils survival through Global Giving.
Links:
WARNING: Javascript is currently disabled or is not available in your browser. GlobalGiving makes extensive use of Javascript and will not function properly with Javascript disabled.
Please enable Javascript
and refresh this page.