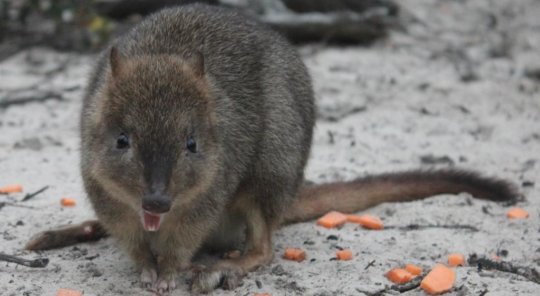 We're excited to share with you that we have been successful in receiving a grant form the Victorian State Government's Department of Environment, Land, Water and Planning to redevelop our wildlife education and captive breeding facility. This is a critical milestone for the project as it will allow us to bring back to the Wimmera, for the first time in over 100 years, locally extinct, nationally threatened species; including: the burrowing bettong, western barred bandicoot, brush-tailed bettong and spot-tail quoll.
By creating safe havens and returning locally extinct native wildlife back to the Wimmera, we will contribute to a network of predator proof facilities and help prevent these species from becoming extinct.
Another objective of this project is to develop a high-quality wildlife education and engagement experience to improve Victorians' knowledge and awareness of biodiversity and wildlife conservation issues. By highlighting the plight of these locally extinct native species, and housing them in our safe havens at the Little Desert Nature Lodge, we will create a rare and unique chance for the community and visitors to see, experience and connect with, our cryptic threatened species, and thereby increase knowledge and awareness of these species and their conservation issues.
Throughout this project we will provide opportunities for volunteers and the community to participate in a meaningful wildlife conservation project and connect with nature by helping us construct this unique wildlife facility.
While we are working on the redevelopment of our captive breeding and wildlife display facilities to house and breed these rare native animals, we are continuing to develop and progress our research and rewilding reintroduction program. However, before reintroductions begin we still need to make some critical upgrades to our external predator proof fences. To make this happen we need your support to buy rolls of wire, netting, fence pins, posts and screws! So please continue to give generously!
To our amazing supporters and donors, we would again like to say thank you! Without your support we cannot continue this critical project and help conserve Australia's weird, wonderful and highly threatened native wildlife. We look forward to keeping you up-to-date with our progress throughout the year.