Health Care Support to a Needy Senior Citizen

The organization has strong focus on health issues particularly for Senior Citizen, women and children since inception and work with the objective of improving the health status of Needy Senior Citizen, women and children through organising Health Camp, community sensitization and developing community based resource pool . We make emphasis on behavior change and do convergence with govt. heath programs or non govt. agency for the support required.

Success Study of a Needy senior citizen

Name: Smt. Geeta Devi (Name Changed)

Age: 61 years

Smt. Geeta Devi belongs to poorest of the poor family and Schedule caste and live in Vill- Barai, Block- Islampur, Nalanda district, Bihar , India. She was suffering from cough for a long time. Due to long time her health condition detroited and was living in very miserable condition. During field work, SUGAM JAGRITI field staffs they interacted with her. During their visit to village they found that an most needy a Senior Citizen Smt. Geeta devi is suffering from Cough badly and no family members as well as community people were taking notice of her health condition. Organisation Staffs find the situation grim and soon arranged for her medical treatment. Her medical treatment and medicine support to Smt. Geeta Devi was possible by support of GlobalGiving fund. Further the team members also meet the family members and counseled them. Proper treatment and care made Smt. Geeta Devi is healthy and now in the condition to contribute in small work of family. Now Smt. Geeta Devi is much thankful to Donor, GlobalGiving & Sugam Jagriti for providing a prosperous life.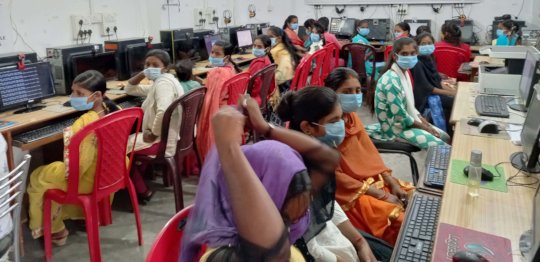 Girls Empowerment through Skill Development Training

The project focus group are dalit, and ultra poor household with special emphasis and focus on female. The project has made special focus on disadvantage youths belonging to dalit, and poor families, as they have very less land holding. The minimum qualification of target group is minimum 10th class, absence of technical expertise and it has compelled them to engage in labour work and are not able to qualify for even clerical jobs. Induction of more sophisticated and modern technology has bounded the recruitment of manpower. It compels youth to engage themselves in labour work (i.e. in agriculture, brick factory, house construction etc.) but it is not the solution of unemployment as it is very short term employment , which doesn't bring any positive change on their life and they become a doll before landlord and fase serious of exploitation . There is huge scope of employment at anywhere for youth with 10th and 12th class pass and illiterate to computer education.

There is acute frustration among youth due to high unemployment . Unemployment is a major human problem of the area as the employment is the only solution of the poverty. It affects schedule caste/dalit, backward caste and poor family. In this line when we consider unemployment of youth it is heart-breaking. Now the situation is not changing favourably and the situation is grim at poorest of the poor families, where unemployment is gradually increasing .
By applying participatory approach and survey community itself will identify the disadvantageyouth.

Objectives:
To improve employment status of youth through Skill training and capacity building .
To minimize gender inequality at the society.
Convergence of target poorest of the poor rural households with govt. schemes and programs.
To develop entrepreneurship skill among youth and women through training and facilitate for their sustainable livelihood .
To make community people sensitive to convergence with govt. skill program.

Success StoryMs. Amrita Kumari (Name Changed), native of Islampur Block , which is targeted as a BPL (Below Poverty Line ) family by govt. . Her age is 21 years old . Her parents has no other option than to adopt daily wage work , where they earn very little. For parent it is very hard and painful to fulfil two square meal of family by labour work . At present she is studying in Graduation and for her and family managing education fees is very challenge .
As per qualification and competency Sugam Jagriti has selected Amrita Kumari for computer Training & Language skills. Initially she was very nervous and disappointed about the future and facing future challenges , it was reflecting during initial discussion as She continuing her education in problems and parent are not able to shoulder the responsibility of their education. She thought that the challenging situation may compel her to discontinue education any time.

Organization selected her for computer training and also provided opportunity for Soft Skill and Communication Skill. It has developed confidence in Ms. Amrita Kumari and completed computer Training and Communication Skills.

Initially during computer Training Organization has guild her confidence and will power , so that she might be able to face the initial challenges. Now she is contributing at organization as a Faculty in Skill Development Training Centre-Islampur run by Bihar Skill Development Mission. At present she is earning money and contributing in family expenses. Ms. Amrita and her parents expressed gratitude to Sugam Jagriti, Donor, GlobalGiving for such support.
Support Dry Grocery for Most Needy
SUGAM JAGRITI has provided relief to the most vulnerable and poorest of the poor families i.e. labour workers, small vendors etc. during COVID-19 situation at Bihar (India) . The target families were living hand to mouth life and due to no work they were living in starvation . Further they were not in the position to pay the rent to landlord . In such circumstances they are living under pressure and fear . Health and sanitation status of old age persons, women and children was further degraded .They were provided food grains (rise , wheat, pilse)) oil , soap, sanitizer and family emergency items . They were also sensitized on safety measures during COVID -19 i.e. social distancing, use of mask , hand washing etc.

Case Study

Sarita Devi (Name Changed) age 54 , resident of Patna, Bihar was working as daily wages workers and fulfilling the family emergency need through daily earning. Due to Covid-19 effect, She lost her work and family seriously went on starvation situation. She was even not able to fulfil the fooding requirement of children and medicine requirements . She was also living in fear as She was not able to pay the house rent . In such circumstances SUGAM JAGRITI provided her food grains (rise , wheat, pilse)) oil , soap, sanitizer as relief. It saved the life of the family. Many other also needy get emergecy support.
WARNING: Javascript is currently disabled or is not available in your browser. GlobalGiving makes extensive use of Javascript and will not function properly with Javascript disabled.
Please enable Javascript
and refresh this page.