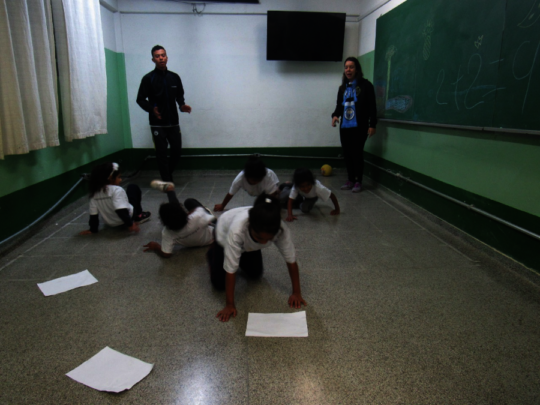 The Goal for Equality Project, during the months of July, August and September of 2018, carried out actions involving learners, educators, youth and community in order to promote gender equality and girl empowerment, using futsal as a tool for social change.
Currently we have 314 students, being 155 girls and 159 boys.
The main actions carried out were:
Formation Meetings of the "Young Leaders" monitors in the themes:
• Gender Equality, Violence Prevention and Culture of the Periphery.
• Specific training - Fundamentals of the modality.
• Vacation marathon planning and implementation: a time when young leaders plan and execute activities for the project learners
• Return from vacation; iniciation of 04 new young leaders; planning and organization of the new training grid; beginning of the specific and common formations on Saturdays; integrated planning about the Leisure Street (25/08)
• Presentation of the video "Goal for equality 2016"; mapping of women's football teams in Vila Albertina and region; Planning about the Walking (29/09)
2. Formation meeting of the team of educators:
Theme: Worth Dreaming Game, which unites knowledge about sexuality, reproduction and contraception to each young person's dream as a motivation for safe sex
Workshops:
a) Dream Identification: Methodology and Life Project
b) Not all Sexual Relations get you Pregnant: Human Reproduction
c) Pregnancy is a Choice: Contraceptive Methods, Emergency Medication
3. Futsal classes:
• Techniques - pass, reception, dribbling, marking, finishing;
• Conversation Circle - Socializing / Respecting space, friends and educators / Team spirit / Respecting the rules / Respect for gender differences;
• Main Activities: lightning mini championship; cooperative and recreational games; practice of the tactical system 3: 1; mini game 1x1, 2x1, 2x2, 3x2.
4. Leisure Activities on Saturdays
5. Leisure Street: 236 participants
126 girls/women
110 boys/men
6. Walking: 116 participants
78 girls/women
38 boys/men
The highlights of the quarter were:
1ª) Activity carried out by the Young Leaders Leticia, Kallebe and Matheus
The young leaders carried out activities for 50 children of the Isac Silvério School, putting into practice the knowledge acquired at the Summit 2018.
2ª) Vacation Marathon
These activities are planned and executed by the young leaders, which take place for a week, for all students of the Open Game program, with the supervision of the educators.
3ª) "Centurions" tour
The headquarters of Fundação Gol de Letra, in Vila Albertina, São Paulo, was visited by the "Centurions" Tour of Manchester City. The circuit - which in Brazil toured the cities of Salvador, Rio and São Paulo - is a celebration of the trophies of the Premier League and the English Football League Cup won by the English club.
The event brought together approximately 400 participants, including students from Gol de Letra and students from public schools in the region. The schools E.E. Prof. Izac Silveiro, E.E. Dr. Sócrates Brasileiro, E.M.E.F. João Ramos Pernambuco Abolitionist, CCA Nossa Senhora Aparecida and Promove Vila Albertina were present.