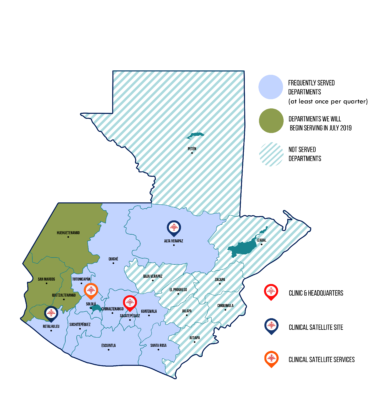 2019 marks WINGS' 18th year. We are growing in important and strategic ways, always aiming to reach the unreachable with reproductive health education and services.
The most significant growth is a geographic expansion via a new third mobile unit to the Western Highlands including Huehuetenango, Quetzaltenango, and San Marcos. We have secured funding, hired local staff, and trained this new team to begin providing WINGS' services in three new departments beginning July 1. We are leveraging a recently signed MOU with the Guatemalan Ministry of Health that will allow us easier access to national hospitals with whom we partner to perform tubal ligations and vasectomies.
Another meaningful partnership that we continue to grow is with APEVIHS (Asociación para la Prevención y Estudio del VIH/Sida), an organization working in the southwest region of Guatemala, focused on malnutrition, prevention, and screening of HIV, along with wrap-around community services. WINGS' agreement with APEVIHS allows WINGS to have a clinic space within their offices and to accompany their community health workers when they go into the field to offer community-based services. We are excited to learn from APEVIHS staff and explore how to best integrate HIV-related services into our work.
In June, our Executive Director Rodrigo Barillas along with the President of our Board of Directors, Holly Myers, attended the Women Deliver conference in Vancouver. In addition to being inspired by the workshops and networking, they were able to share WINGS' work on an international stage, continuing to build our reputation as a leader in the provision of rights-based, patient-centered care.
Finally, our Medical Director, Dr. Michelle Dubón, was chosen to be a part of the 2019 class of Aspen New Voices Fellows. These 25 leaders from the Global South work on the frontlines of global development and health. For more info, check out their website. Last week, Michelle participated in the "Aspen Global Innovators Group at Aspen Ideas: Health" gathering in Aspen, Colorado where she learned new tools and gained even more expertise to help us improve how we communicate about our work in rural Guatemala. (She also got to meet Dr. Ruth Westheimer!)
We are so proud of all the new opportunities we are experiencing right now and cannot wait to see what the rest of 2019 brings! Your continued support and trust mean so much to us as we provide reproductive health education and services in Guatemala. ¡Gracias!