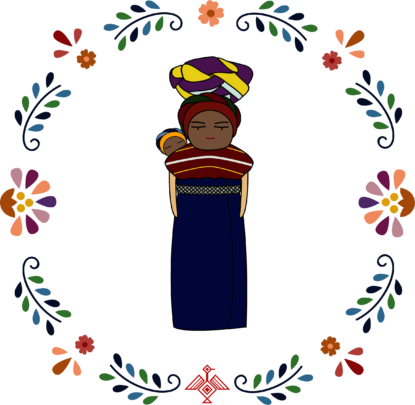 In Guatemala, we have a tradition of "Muñecas Quitapenas" or Worry Dolls. According to folklore, if you have a worry, you whisper it to your Worry Doll, put her under your pillow at bedtime and in the morning she will have taken that worry away and you'll be worry-free! You can learn more about these powerful muñecas by visiting https://guate-maya.com/munecas-quitapenas-worry-dolls-what-they-are-and-how-to-find-them/.
In July 2019, WINGS undertook a geographical expansion into the Western Highlands of Guatemala, with the help of generous funders who understood the need for increased services in this hard-to-reach area. After working for the past few months in the departments of Huehuetenango, Quetzaltenango, and San Marcos, we are even more convinced of how important WINGS' services are there.

In September of this year, we saw 34 year-old Mónica Luisa at one of our tubal ligation clinics in San Marcos. At her young age, she already had 7 children and had been using quarterly birth control shots as her form of contraception. We hear this situation from many of our patients: they know they don't want more children, but it is difficult to get to a facility to get a tubal ligation or vasectomy, let alone pay for the procedure.

WINGS saw Mónica Luisa and 11 other women at the San Marcos clinic day - a great turnout as a new service provider in the area! Because of our funding, and our partnership with the Guatemalan Ministry of Health, we offered those 12 women a permanent solution for their constant worry of another pregnancy...for free.
Stories like Mónica Luisa's remind us that while we are energized by the work we do, there is so much need. With your support, WINGS has the power to take away a huge worry for so many people - moms who are worried about getting pregnant again, teens who are worried about an unintended pregnancy, families who are worried about feeding one more child.
We are so grateful for your support as we endeavor to be the most powerful Muñeca Quitapenas for our patients that we can possibly be. ¡Gracias!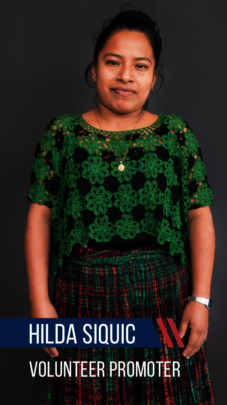 One of WINGS' longest-standing programs is our network of more than 30 Volunteer Health Promoters: community leaders identified within underserved rural areas to be a local point of service. Through their intimate linguistic and cultural knowledge of the communities they serve, they are able to provide quality contraceptive counseling, low-cost short-acting methods, and referrals to WINGS medical clinics for additional services.
Hilda Siquic is one of our star volunteer health promoters from the northern department of Alta Verapaz. We interviewed her recently about her perspectives on her work with WINGS. Here's what she told us.
"I am 25 years old and I have no children. It is not something common in my environment.
I wanted to be part of WINGS to be able to inform my community. In Alta Verapaz, women have many children, and most of them are because they do not know about the existence of effective methods to control their pregnancies. In my community, Yapelmech (Raxruhá), many women have 7 to 10 children. As a Volunteer Promoter with WINGS, I provide women with short-acting reversible contraception. Now we have to educate men, because they don't want women to plan with long-acting reversible contraceptives since they believe that incites them to infidelity.
When I started with WINGS I thought that family planning talks would not be welcomed since my community is very religious and church priests are against contraception, but it was the opposite. The women are really relieved to know that they can have the children they want at such an affordable cost."
Women like Hilda are helping to change the daily realities of so many communities in Guatemala by bravely talking about the subject of reproductive health with their families, friends, and neighbors. Your continued support of WINGS and Hilda means so much to us as we provide reproductive health education and services in Guatemala. ¡Gracias!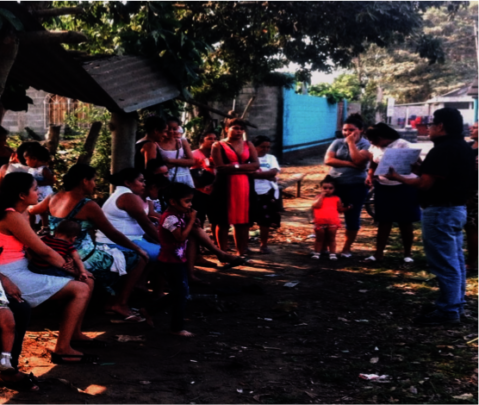 In May of this year, we visited El Mora, a community of the department of Escuintla in Guatemala where we had first made contact in March of this year and where a previous educational talk was given for future clinic days. This is an area where the women leaders of the Catholic Church play a significant role in community leadership. In that first contact, they let it be known quite clearly that they were only interested in WINGS providing rapid screenings for cervical cancer and expressed their distinct rejection for contraceptive methods.
During the May visit, despite the common logistical challenges involved in nearly every clinical set-up, WINGS successfully held a cervical cancer clinic in the Catholic church in El Mora. The leader in charge of the church, besides showing her interest for the conservation of privacy, the importance of the follow-up and the attention of the nurses, showed a surprisingly supportive attitude for our work. WINGS, in our approach to underserved communities, has managed to create a relationship of trust with community leaders who are our greatest allies so that we can take our services to the individuals who need us most.
Having a clinic in a Catholic church, with the support of community leaders, is a HUGE step for WINGS. After the success of the cervical cancer-screening clinic, WINGS staff was delighted to get the call to schedule a future contraceptive method clinic. We are so excited to see where this relationship might lead in El Mora and beyond.
We have learned over time that creating this relationship of trust requires continuous, unflagging efforts; especially in those communities where culturally there is more rejection for the contraceptive methods that we provide.
Your support means that we have the resources and highly trained staff necessary to do this life-saving work. We appreciate your commitment to help us make a difference for so many women and their families.
WARNING: Javascript is currently disabled or is not available in your browser. GlobalGiving makes extensive use of Javascript and will not function properly with Javascript disabled.
Please enable Javascript
and refresh this page.