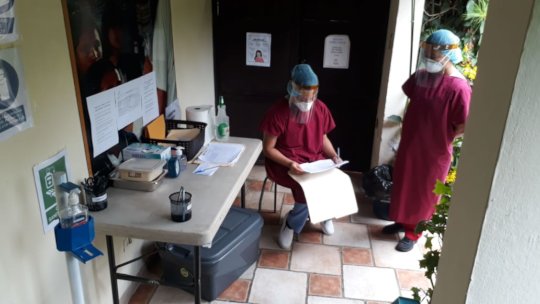 The last few months have been intense! I am happy to report that our Antigua clinic reopened its doors in mid-June, almost three months after we took the unprecedented decision to suspend most field operations. It took us a bit longer than expected, and we had some challenges getting all the PPE and other supplies (for example, non-contact thermometers) that were sold out or unavailable in the country.
Anticipating high demand for services in Antigua, we set up two clinic spaces, where patients are seen by appointment only. We will gradually reopen the rest of our services. Next up is the clinic near the Guatemala City dump. The Ministry of Health has officially approved our clinic license application, giving us the green light to begin services as soon as possible. We are excited that this clinic space will allow us to serve a population living under the harshest of conditions of urban poverty. We anticipate this clinic will eventually offer services 4 days a week.
Shortly after will be time for what we are calling "Temporary Clinics". This is part of the 'new normal' and, as the name states, will be community-based points of services that WINGS will temporarily "take over" one day each week, and where our nurses will offer services. We are working on agreements with 6 different Health Areas (department-level authority of the Ministry of Health) for a total of 23 clinic sites in Alta Verapaz, Chimaltenango, Suchitepéquez, Totonicapán, Quetzaltenango (highlands and coast), and Huehuetenango. We are evaluating the possibility of an additional 3 clinic sites in Sololá, though the situation around COVID-19 in that department is a bit more difficult for now. We are also finalizing the purchase of new equipment (including two vehicles) and supplies so that we may have the capacity to operate this way, with smaller teams distributed throughout the country, for at least the rest of the year.
Also in July, WINGS will begin hosting Vasectomy clinics every Friday in our Antigua clinic. Due to the high risk of COVID-19 contamination, we will not be able to offer tubal ligations, therefore we will heavily promote FREE VASECTOMY CLINICS each Friday. Beginning in Antigua, we will evaluate a way to replicate this in the coming months in more locations (Guatemala City, Quetzaltenango, Retalhuleu, Chimaltenango, Escuintla, and others).
In August, once (we hope) the curve begins to flatten, we will begin hosting small-scale pop-up clinics. These clinics will be staffed by one or two nurses and, where transport is required, a driver. The most critical part here will not be our own willingness or capacity to offer services in rural areas, but whether local leaders will allow us to come into their communities. Our Field Promotion team will soon begin conversations with Municipal Women's Offices so that they can help us get "invited" back into communities by local authorities. We are quite aware of the different dynamics and politics that take place in rural communities, oftentimes not in sync with government mandates, and so we will do our very best to comply with their rules as a way to safeguard our staff. The last thing we want to be considered is a source of contagion and be kicked out, or worse.
Finally, some of you may be wondering how we will be able to promote and schedule all these different services. WINGS Field Promotion team has begun experimenting with new ways to communicate with communities and partners. One way is through virtual talks and presentations. Another is through radio spots, which we have begun recording in Spanish and some Mayan languages represented within our diverse staff. Some of these spots will differ from the traditional 30-second commercial spots and will be podcast-style interviews.
As you can imagine, there's a lot of excitement, but also anxiety and nervousness. The Executive Team at WINGS has been talking about this with some frequency lately, and we are taking steps to work with our staff on these emotional issues as well. I am sure that tense moments await us, but if we remain observant, if we communicate in the most truthful and transparent way possible, I know we will thrive. As long as our WHY remains our northern star, WINGS will be a better, stronger institution, and will be able to provide even better reproductive health services and education to many more vulnerable women, men, and adolescents.
Please keep us in your thoughts in the weeks and months to come. As we begin reopening we will happily receive all the positive energy and vibes we can get. And as always, thank you for your support!