To our generous friends and supporters,
The last time we caught up with you, autumn was beginning to take hold and the holidays were upon us. I hope that everyone was able to enjoy a safe and happy season!
Over the past few months, Keepers of the Wild has had a lot of good going on! Our brand-new, on-site Santiago Animal Clinic was officially opened, and we have already begun utilizing it to care for the animals.
Our first big cat patient was Mercury, a 17-year-old Bengal tiger, presenting signs of an injured front paw. Our team immediately notified the park veterinarian, Dr. Angone, who, with the help of her assistant and five additional Keepers crew members, was able to successfully x-ray the paw, as well as to conduct a thorough physical including blood samples- all right there at the sanctuary. What an experience! Watch the video here: Mercury's X-ray and Wellness Check
We are so proud and delighted to be able to administer this type of immediate, high-quality medical care to our animal residents, both big and small. We would never be able to accomplish such a monumental achievement without the support of our work by kind and generous people like you. Your love and concern for the welfare of wild animals are directly impacting not just the animals currently in our care, but the ones who have not yet arrived. You should feel as proud as we do!
Other big news includes the purchase and placement of park signs throughout the grounds. For years, our onsite gift shop has been issuing park maps to guests that typically ended up becoming park litter or trash. Not cool! The maps also had the tendency to become confusing, as new animals arrived or others were moved to another habitat; it was too costly to continue updating and printing new maps, so we went to work on brainstorming ideas to negate these pesky park map issues.
Keepers' Founder and Executive Director, Jonathan Kraft, decided that with the placement of park signs, not only would guests no longer need paper maps, but it would also be a nice beautification project for the park grounds as well; a bold, green move. Visitors and Animal Caretakers alike have been loving the new signs which have proven to be a great investment (as well as Instagram-worthy!).
This year, Keepers of the Wild plans to take in at least six large animals including grizzly bears, tigers, and lions, as well as numerous other animals. Some of these plans have been in place for nearly a year but have been delayed due to the continuation of COVID-19 travel restrictions, as the animals are currently located in a zoo outside of the United States. I wish I could share more details with you, but we have been asked not to, just yet. This type of request is common with animal rescues, and we choose to honor the request each time to ensure a smooth and pleasant transfer for the animals. We are hoping that by the end of summer we will be able to transport and receive these magnificent beings. Fingers crossed!
As with every animal rescue, Keepers will not be able to successfully execute these arrangements without the continuation of your faith in our mission and the support of our work. The six large animals will add approximately $100,000 in food and medical bills to our annual budget. That does not include the additional $30,000 for habitat construction and $12,000 for annual enrichment for the six animals. All in all, we expect to spend a minimum of $142,000 to save these animals from the deplorable life they're living and give them the absolute best quality of life possible, for the rest of their lives.
Raising $142,000 is a big ask (and a big task!), but I know that Keepers of the Wild has some of the most caring and generous supporters around who we can count on to help us save more lives of animals in need; I know we can and will meet this goal together! The kick-off for this fundraiser will be Tuesday, April 6, 2021, in acknowledgment of "Arizona Gives Day", a state-wide day of giving focused on Arizona-based nonprofits.
Between being awarded the 2020 "Platinum Seal of Transparency" by GuideStar and the 2021 "Vetted" seal by GlobalGiving, along with being rated a 2020 "Top Non-Profit" by Great Nonprofits and being a BBB accredited charity, our donors can always feel confident in and proud of their contributions to Keepers of the Wild.
I look forward to keeping you updated on all the exciting news at Keepers of the Wild this year, including the arrival of new rescues and all the ways your support is directly giving wild animals a brighter future and a chance to live. Imagine how gratifying it will be to see and hear the grizzly bears in their new habitat pool, the tigers stalking through wild grasses for the first time, and the lions bellowing their roars of ownership over their new-found territories… All because of your love and support.
And don't forget; there are many ways you can help support the animals and work of Keepers of the Wild. Following us on social media and sharing our posts is a fun and easy way to stay informed and help spread the word about what we do. The more people who know about Keepers of the Wild, the more animals we can help save- together.
We Love. We Care. We Protect. We are Keepers of the Wild.
Until next time, stay safe, stay well, and stay kind.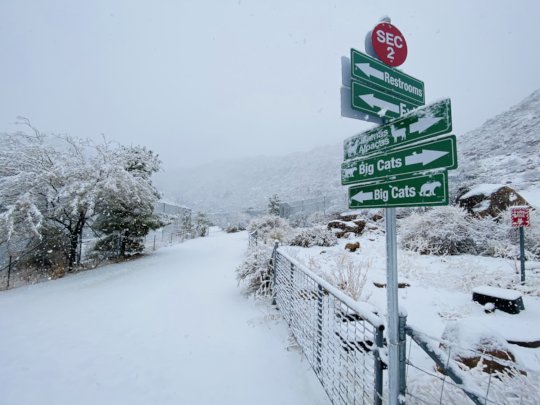 Links: