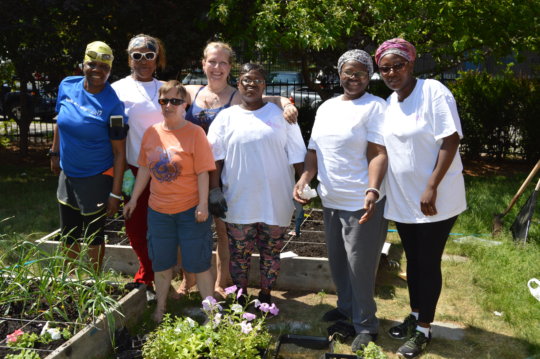 We at Rosie's Place are so grateful for your support of our Food Programs through GlobalGiving!
Serving thousands of nutritious breakfasts, lunches and dinners, and offering assistance with groceries—the Food Programs at Rosie's Place are longstanding and vital nutritional and financial supplements for our guests. Our Dining Room serves a tasty and nourishing meal—365 days a year—to 300 women and their children each day. Specifically,
From July 1, 2015 through June 30, 2016
20,653 weekday breakfasts were served.
8,869 weekend brunches were served.
39,237 lunches were served.
34,925 dinners were served
A remarkable 74% of these lunches and dinners were catered by volunteer groups.
This is a total of 103,684 nutritious meals served, up 3% from last year.
When poor women are able to afford food—nutritional value is usually overridden by cost. Healthy choices are often more expensive. We're proud to report that almost every single one of the meals we serve in our Dining Room includes: 1 serving of fruit, 2 servings of vegetables, is high in fiber and low in both sodium and fat.
From July 1, 2015 through June 30, 2016
99% of the all meals served contained 1 serving of fruit.
98% of the lunches and dinners contained 2 servings of vegetables.
99% of the lunches and dinners contained foods containing at least 12 grams of fiber.
96% of the breakfasts had foods containing at least 3 grams of fiber.
97% of the meals contained the recommended daily requirement of sodium, less than 2,300mg. daily, or 1 tablespoon.
97% of the meals contained the USDA recommendation of less than 10% of the calories per meal from saturated fatty acids, and less than 35% of calories per meal from fat.
Because many of our guests work during our Dining Room's meal times and/or have families who are hungry too, we offer Rosie's Place Groceries, our food pantry. Here again, we make every effort to provide healthy and fresh food to our guests as well as nutritional recipes and fact sheets. Through this program, guests are invited to "shop" among our shelves, choosing foods that their families prefer and enjoy.
From July 1, 2015 through June 30, 2016, Rosie's Place Groceries:
Welcomed 22,760 visits (up 1,384 from last year). This is an average of 1,897 visits per month. In total, there were 6,398 unique guests—2,087 of whom were new, and 1,420 of whom were over the age of 65.
60% of all canned goods were low in sodium.
All nutritional recipes and factsheets were provided in English, Spanish, Portuguese, Haitian/Creole, and Mandarin.
Farm Initiative
Through our Farm Initiative, Rosie's Place partners with local farms to help place fresh fruits and vegetables onto the plates served in the Dining Room and onto the shelves of our choice Food Pantry. This produce is all too often a luxury for our guests and the only fresh fruit or vegetables they will have. This year, we have more partners than ever before and we anticipate receiving more than $30,000 worth of donated fresh produce.
Community Garden
Our Self-Advocacy program spearheads an on-site community garden at Rosie's Place. Planted and maintained by a group of guests, the harvest is shared with other guests through the Dining Room and the pantry. Please see below for a link to a recent newsletter article about this very rewarding project.
The need for Rosie's Place's services continues to increase and expand. With the closing of Boston's Long Island Shelter last year, which displaced the more than 700 residents of the island, as well as the drain on the city's resources that followed, Rosie's Place remains a bustling hub for poor and homeless women in need. As we have for over 40 years, Rosie's Place will continue to endure and evolve to meet the ever-evolving needs of our guests. We have always known that there is not one face of poverty, and of course, there is not a one-size-fits-all solution. Consequently, we are constantly self-evaluating and expanding to better meet the changing needs of our guests.
The Rosie's Place community is so grateful to have a friend like you. Your support has meant that instead of going hungry and going without—thousands of poor and homeless women and their children were well-fed and didn't have to worry about where there next meal was coming from. Thank you for your continued generosity.
And as a reminder, Wednesday, September 22nd is GlobalGiving's Time-Release Bonus Day. You'll have the opportunity to double your impact as GlobalGiving will provide a 30% match on donations received on this day. Matching funds will be released at 6:00 am EDT and 12:00 pm EDT. Thanks so much for your continued support!
Links: