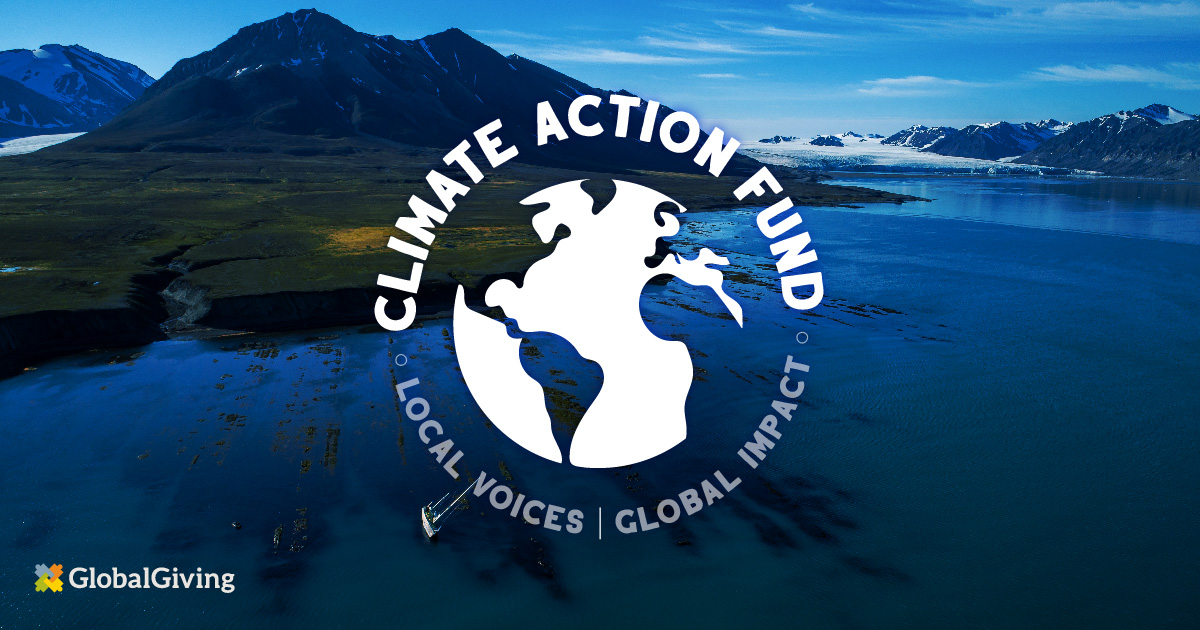 Overview
We envision a world where local communities can exist in reciprocity with the water, air, wildlife, and soil around them. Too often power is taken and resources are extracted from local communities. Many nonprofits in the GlobalGiving community are reversing this flow; bringing power back into the communities and life back into the streams and forests that sustain them.
What's clear from observing the environmental work of GlobalGiving partners is that there will not be one solution that rescues our ailing planet; there will be many and the solutions will be as diverse as the problem of climate change is complex. In one word - the solutions will be local.
Empowered with this truth, GlobalGiving launched the Climate Action Fund in 2019 to drive funding to and forge purposeful connections among local nonprofits working to conserve wild places and restore ecosystems for this generation and the next.
Each year, five organizations from the GlobalGiving community are selected to represent the Climate Action Fund. These organizations receive monthly disbursements for a full year (totaling a minimum of $10,000 USD), along with training and networking opportunities organized by GlobalGiving.
Please review the information on this page and watch this 20-minute informational video to determine if your organization should apply to be in the 2021-2022 Climate Action Fund.
Application Process
The following are the application steps with an estimate of how long each step will take:
Submit your Climate Action Fund application by (DEADLINE EXTENDED) Sunday, June 6, at midnight ET (plan to spend 1-3 hours preparing for and filling this application out). You can find a complete list of the application questions here.
GlobalGiving will invite finalists to a 45-minute video interview in mid-late June
Final five winners will be announced by the end of June
Important Dates
June 6 - Application deadline (5:00 p.m. ET)
June 15 - Application status announcement
June 16-24 - Video interviews with finalist
June 30 - GlobalGiving will announce final decisions to all applicants
July 19-23 - Public announcement & celebration of new cohort
Intended Outcome
After one year in the fund, each member of the Climate Action Fund will….
Receive a minimum of $10,000 USD to advance local climate change interventions. Winners should expect disbursements of $200-$3,000 USD on a monthly basis for a year. Monthly amounts will vary due to natural fluctuation in fundraising results. GlobalGiving will promote the Climate Action Fund all year long.
Become a GlobalGiving ambassador on climate action (see Participant Agreement Overview below)
(hopefully!) Feel that GlobalGiving provided an enriching experience where you grow in community with your peers
Help GlobalGiving improve the experience for the 2022-2023 Climate Action Fund cohort
Application Requirements
Consider the following requirements to determine whether your organization ought to apply to the 2021-2022 GlobalGiving Climate Action Fund:
Nonprofit applicants must:

Be a Partner, Leader, or Superstar on GlobalGiving
Be eligible to receive disbursements from GlobalGiving
Have a core organizational focus on local climate action
Be firmly rooted in the communit(ies) it serves
Have at least one climate action project active on GlobalGiving upon applying and, if selected, keep one active through May 2022

GlobalGiving partners can win a spot in the Climate Action Fund up to three times.
The individual who completes the application on behalf of of the nonprofit must be:

A GlobalGiving Project Leader
Involved with or leading the organization's communications and/or fundraising work
Deeply ingrained in the community the organization serves
Looking for a funding and connection opportunity through GlobalGiving
Conversational in English (this is a HUGE barrier that we acknowledge and hope to overcome in future years)
Cohort Selection
GlobalGiving will select five winners using these guidelines:
Geographic diversity - no more than two organizations per country
Mission diversity - organizations selected will be engaged in a variety of climate solutions
Fund experience - no more than two previous cohort winners
Organization - must show how the organization's work is attuned to the specific socio/cultural/historical context of where its programming takes place
Organization - must take care to honor the existing knowledge, culture and needs, of the community the nonprofit serves and/or communities connected to the natural resources the nonprofit aims to protect
Cohort representatives - must be deeply ingrained with the community and ecosystem they serve and demonstrate interest in contributing to and learning from their GlobalGiving peers in the environmental space.
Participant Agreement Overview
GlobalGiving Agreement:
Host exclusive training sessions based on collective cohort interest (topics to include: public speaking, media cultivation, community-led development)
Provide Climate Action Fund winner media toolkit
Promote the Climate Action Fund on GlobalGiving's Social media accounts
Feature the Climate Action Fund in email and content marketing
Host virtual gatherings for the cohort to share progress, learn from others, and receive peer feedback
Support cohort in finding additional funding opportunities
Offer limited "Office Hours" with GlobalGiving staff members (topics to include: Google ad grants, graphics, etc.)
Project Leader Agreement:
Attend bi-monthly cohort exchange sessions
Provide the GlobalGiving team with up-to-date imagery and stories for curated content, social media promotions, and Fund updates
Stay up to date on GlobalGiving project reporting
Grant Agreement Overview
Your organization will receive a minimum of $10,000 from GlobalGiving as a part of winning a spot in the 2021-2022 Climate Action Fund.
Disbursements will be made monthly beginning in June 2021 through May 2022
Amounts disbursed may vary month by month as the amount is determined by GlobalGiving donors' giving the prior month.
GlobalGiving will help set proper expectations around monthly disbursements from the start and will communicate over email the confirmed amount going out each month.
Recipients will use the funds within two years in support of programming that advances climate justice.
Recipients will maintain at least one active climate action project on GlobalGiving for the duration of the 12 months in the fund.
Recipients must be in good standing with GlobalGiving and remain eligible to receive disbursements for the duration of their time in the fund.
GlobalGiving reserves the right to permanently disqualify any organization from the fund at any time.