Welcome to Ford and GlobalGiving Disaster and Crisis Relief
South Africa has suffered from 3 years of limited rainfall; resulting in a severe drought and strict limits on water usage in Cape Town and surrounding areas. The hope is that these water usage restrictions will prevent "Day Zero," the day when all municipal water access will be shut off.
While the initial response of delivering bottled water is a success - it is neither sustainable nor cost-effective. Ford Fund is working with our partner, Gift of the Givers, to help minimize the effects of this potential crisis by providing $30,000 USD to help provide a sustainable solution to the water shortage. Their hydrology team has identified groundwater sources in and around Cape Town that can sustain the communities surrounding the boreholes for the next few years. The boreholes are tested for yield, quality and then equipped with pumps, tanks, solar panels, pipes and taps - and finally secured - enabling communities to access drinking water daily.
Ford Fund has previously worked with Gift of the Givers following the flooding in Durban in Fall 2017. The Ford Fund invites you to support Gift of the Givers with a donation below. Your support will contribute to the development of a sustainable water solution that will minimize the water crisis in Cape Town.
To determine the amount for your donation if in another currency than US dollars, click here for a currency converter tool.

North America


Asia Pacific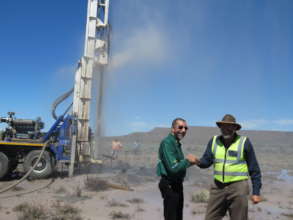 The acute phase of the response focuses on delivering purified bottled water. Over 2 million litres are currently being distributed to homes for the elderly, orphans, disabled, clinics & schools - all institutions where people cannot manage to stand in line to collect water from springs or collection points. With poor rainfall predicted, increasing demand and potentially 7 million people affected - the focus is now on providing drinkable water daily - through boreholes around the Cape.

Europe & Africa


South America