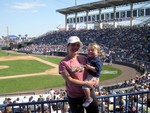 happyathome
Location: Connecticut
Occupation: Stay at home mom
About My Inner Philanthropist (why I give): To me, it is a great feeling to be able to give something back wether it is in your local community or beyond your reach. Having visited some of these areas that have been defined in GlobalGiving also brings a great impact. I hope my contributions even if they are small can make a difference.
happyathome's Giving Stats: