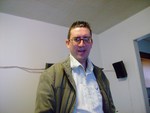 prosperityandlifegiver100
Location: Ruston
Occupation: Courtesy Clerk/Musician/Writer/Inventor
My Passions: Giving to the poor. Music. Writing. New Thoughts And Ideas.
About My Inner Philanthropist (why I give): Because I am somewhat poor. "It is better to give than to recieve" - Jesus. Hopefully, I will get out Social Security/Medicare/Medicaid now so I can give more and more for life.
prosperityandlifegiver100's Giving Stats: