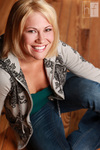 Krystalshiela
Location: Los Angeles
Occupation: Entertainer
My Passions: Acting, dancing, running, reading, traveling, wine, chocolate..
About My Inner Philanthropist (why I give): Because it is the right thing to do. "You have two hands, one for helping yourself and one for helping others". Every time I give I not only feel that I am helping make a difference in this chaotic world, but it also improves on myself.
Krystalshiela's Giving Stats: