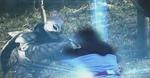 Curtis Joe
Location: Guess
Occupation: CIA, also a ninja hunter
My Passions: Sports Naked Women Sports Sports Kamen Rider Godzilla Richard Harrison ninja movies by Godfrey Ho Any Dreamy Takeshi Kaneshiro movie Go Cowboys Go Mavs Go Rangers Go Stars Go FC Dallas Go Mean Green
About My Inner Philanthropist (why I give): "Children are the world's greatest treasure. To make one cry is the greatest sin." - Tendou Souji I need to earn credits for when I die to negate all the sins I have committed including wasting my life away. Do the action, once you start it's gonna be a CLIMAX!
Curtis Joe's Giving Stats: