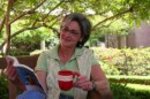 sara speer selber
Location: Houston, Texas
Occupation: owner of www.thepmteam.com
My Passions: I am passionate about life. Right now I am working on a project called www.buildclean.org and am excited by all that I am learning each day.
About My Inner Philanthropist (why I give): I GIVE because I CAN.
sara speer selber's Giving Stats: