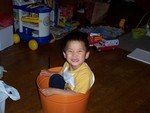 Monica
Location: Dayton, Ohio, USA
Occupation: Marketing Copy Writer
My Passions: Adoption, art, music, kids, flea markets, China, raising my kids to be part of both their cultures: American and Chinese.
About My Inner Philanthropist (why I give): How can I not give to those in need in the country where my two children were born? China is part of me now and I'll always give whenever and wherever I am able to help the Chinese people, especially children.
Monica's Giving Stats: