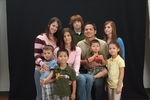 paulinetsai
Location: Paradise FL
Occupation: Medical/Now @SAHM
My Passions: Reading, Living life to it's fullest. Soaking up every last minute with these 6 kids and 1 grandson of mine. The BEACH! Art( appreciation). Trying not look my age!
About My Inner Philanthropist (why I give): I believe wholeheartedly in the greatness of the Chinese culture that gave me my adopted son, my husband, and my 2 biological children. A big part of my heart is in China so I try to give ack to a country and a culture that has given me so much.I give to organizations that provide relief to children in need primarily.
paulinetsai's Giving Stats: