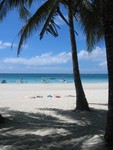 AngelaP
Location: Washington DC
My Passions: Travel, books about far away lands in far away times, yummy food, third culture kids (yours truly), learning, vinyards..and did I mention TRAVEL!
About My Inner Philanthropist (why I give): "We are all caught in an inescapable network of mutuality, tied into a single garment of destiny." Having been raised in the Philippines and traveled a lot at a young age, I learned very early on how lucky I was and how interconnected we all are. As a citizen of the world, I cannot stand by and do nothing, when there is so much I can do.
AngelaP's Giving Stats: