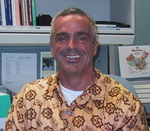 Marco
Location: Washington DC
Occupation: Agricultural Economist
My Passions: Learning is #1. Subsets include bicycling, reading, running, meeting people, dogs, travel, hiking. Music: music is so important. Don't forget friends.
About My Inner Philanthropist (why I give): I have been very lucky in my life: it is essential that I return to the cosmos what wonderful things have been bestowed upon me. Giving is very personal to me. I give to nieces and nephews as much as to organizations. Sometimes it's an issue that has affected me personally, sometimes a friend is involved in a project.
Marco's Giving Stats: