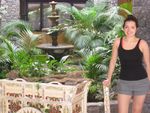 Marest784
Location: New York, USA
Occupation: Internal Auditor for IBM
My Passions: I love travelling and meeting locals and experimenting with a local culture. I also enjoy visiting my family in Portugal. I enjoy hiking, canoeing, and reading. I enjoy travelling with good friends and family.
About My Inner Philanthropist (why I give): I give because I can and should. I wish I could give more, and like the feeling of being able to help and see growth from one's help. Its a spiritual journey, but every little help one gives, it gives back.
Marest784's Giving Stats: