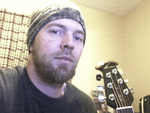 cdseverance
Location: Owensboro, Ky
Occupation: Auto manufacturing
My Passions: I enjoy music and the great outdoors in my spare time. When I hear the statistics if the amount of trees cut down each year, it literally makes me sick. Global warming ( not to mention all the wildlife) is getting destroyed at a rapid pace.
About My Inner Philanthropist (why I give): We all can help the problems I mentioned above if we all chip in and do good for our earth. I would like to one day become a spokesman for these enviromental issues and raise as much awareness as I can.
cdseverance's Giving Stats: