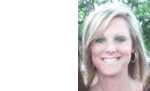 Brooke
Location: Richmond, VA
Occupation: VA Board of Bar Examiners
About My Inner Philanthropist (why I give): I have always felt a want in my heart to give to others & to want to help make the world a better place. Over the years I have come across different opportunities & organizations that I could give to, but never did. Something in me always stopped me from going forward with it. I think I always knew that when the time came that I found something in which I truly wanted to make a difference, my heart would know it. When I heard about the tragedies in the DRC-I knew that was where I wanted to help.
Brooke's Giving Stats: