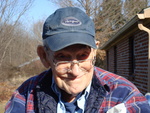 J Philip Stapleton
Location: Died February 4, 2008, Waynesboro PA
Occupation: Machine tool designer and builder
My Passions: Phil was known for his eagerness to help others, which he did throughout his life. He spent time trekking in Nepal, and subsequently helped a number of young Nepalese women to pursue their educations in Nepal and the United States.
About My Inner Philanthropist (why I give): This photo of Phil was taken just 10 days before he died. He died peacefully, at his home, as he had always wanted to do. The email address is for his son, David. Please contact him if you would like further information.
J Philip Stapleton's Giving Stats: