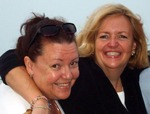 NJNan
Location: Summit, New Jersey
Occupation: Antiques Dealer
My Passions: My family, my husband, my daughters, my sisters, friends, Ocean Grove, NJ (where I learned the value of giving of yourself), volunteer work, antiques, reading, and travel.
About My Inner Philanthropist (why I give): It's the right thing to do when you're in the position to do so. It's the way we were taught by Christ -- give of your money, your talents, your time. We are all God children and meant to care for one another.
NJNan's Giving Stats: