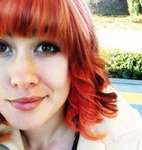 Samantha.Plescia
Location: San Jose, Ca
Occupation: Student + Borders Books
My Passions: I am working on getting a degree for Counseling in Education. I think that the American education system has too many holes in it, and students that do not have enough resources available to them are falling through.
About My Inner Philanthropist (why I give): I want to help Womyn of the world get an education. I was blessed to be born in a country where most Womyn are educated. I want to use that step up to help those who do not have the same. I would much rather pay for someones education than buy a designer bag.
Samantha.Plescia's Giving Stats: