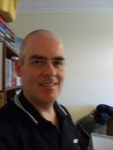 peterlenon1968
Location: Tyne and wear England
Occupation: Teacher
My Passions: I like reading am struggling to break through as a thriller writer - having written one (which is quite good if I do say so myself) and in the midst of another. I like movies, TV especially the West Wing, Law & Order and NCIS and am single & waiting
About My Inner Philanthropist (why I give): Everyone has a duty to help those less well off if they wish to think of themselves as civilised. I am secure financially and emotionally so it is only right that I do my bit; if everyone does a little the end result is a lot.
peterlenon1968's Giving Stats: