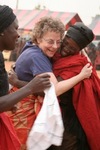 Gammy
Location: Rhode Island, USA
Occupation: Mediator
My Passions: My passion is the human landscape - my family, friends, and people all over the world.
About My Inner Philanthropist (why I give): I believe in Tikun Olam, the repair of the world. I practice this in my volunteer work and in my charitable gifts. At age 72 I feel blessed to be alive and able to give back to the world.
Gammy's Giving Stats: