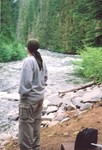 Donn
Location: Washington State
Occupation: Executive Director
About My Inner Philanthropist (why I give): We are the world! We are one! If I had not had the good fortune of being born in the United States I could just as easily have been in the shoes of some of these girls and women. I give because I care about others and it is my duty not to ignore the plight of women and children worldwide.
Donn's Giving Stats: