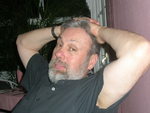 David
Location: San Francisco
Occupation: University Scientist
My Passions: Just ask what my wife and I are reading these days, that should give you an idea: academic books on the Lotus Sutra; ancient travelogues; Canadian fiction authors; Los Angeles Magazine; the Economist.
About My Inner Philanthropist (why I give): My wife and I both consider ourselves to be world citizens, so we are interested in the well being of all people. We have travelled extensively through Asia and I have some inner attachment to the Pakistan region. We would very much like to see people in all parts of the world, and especially Asia, have the opportunities that we have. I hope our giving/support enables this. We have spent some time helping some of the projects we have supported at Global Giving.
David's Giving Stats: