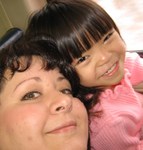 Brandi
Location: Lowell, MA
Occupation: Ops Support
My Passions: China, orphaned children and anyone who needs assistance when my heart is pulled to give. I always wish I could do more and help everyone!
About My Inner Philanthropist (why I give): I give when I can, as we are not a wealthy family by American standards, but I feel that whatever good fortune I have should be shared with those less fortunate. I know I cannot save the world, but I also know that every bit helps. I am especially pulled to projects and problems in China as that country gave us the greatest gift of our lives; our daughter, Samantha Rose Zhao Xia, age 5.
Brandi's Giving Stats: