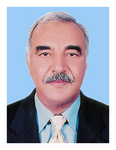 Iqbal
Location: Karachi
Occupation: Retired Pilot
My Passions: The only passion I ever had and still have is Flying.
About My Inner Philanthropist (why I give): What can I say. I am simply a compassionate person who is aware of the sufferings of the majority of God's most wonderful creation - the human being. I wish to simply please Allah, by contributing a little every now and then to this noble project of the Zindagi Trust, in my own humble way.
Iqbal's Giving Stats: