| | |
| --- | --- |
| | This is a personal message from Mari Kuraishi, President and Co-Founder of GlobalGiving. Mari, a Japanese national, is preparing to visit Japan following the one-year anniversary of the March 11 earthquake and tsunami. |
---
As you may have realized,
this Sunday marks the 1-year anniversary of the Great Tohoku/Kanto Earthquake and Tsunami in Japan
. For the last several weeks, Britt, Kumiko, and I have been planning a trip to Japan to visit our project
partners in the Tohoku
area. Planning for the trip has made us all realize just how much has been accomplished with the recovery efforts in the past year, but also how much remains to be done.
As we planned the logistics of our trip, I blithely expected we would be able to get to most places by train, because that's usually a pretty good assumption to make in Japan. But not this time. I assumed that hotels, restaurants, and other services would be operating anywhere we planned to be – but that's not the case.
It took many phone calls to uncover the fact that some trains still aren't even operating and many business are still closed in the Tohuku area, and that's when it hit home for me.
A year feels like a long time when you think of all the things
accomplished
since the disaster. But a year is not enough for many individual businesses to be rebuilt, for people's lives to be brought back to normal, or even for all the plants to grow back.
I'll be going back to Japan in two weeks, both to visit my home and to thank all the amazing Japanese leaders who are still hard at work putting their communities and their country back together again.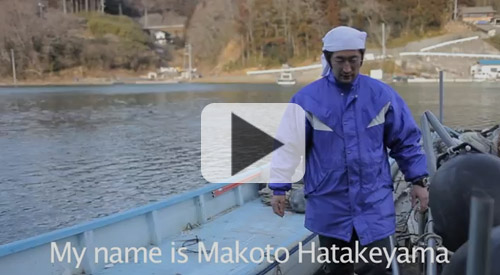 I'll be meeting with
people like
Hatakeyama-san, a fisherman in Kesennuma who used GlobalGiving donations to buy ropes and build rafts to start oyster farming in his area.
I'll be speaking with Japanese women from the civil sector about what it means to be Japanese, a woman, and a leader at this make-or-break time in the course of Japanese history. I'll be visiting my family, including my 93-year-old grandmother, who besides the last disaster, lived through the great Kanto earthquake, World War II, and the incredible post-war recovery.
Finally,
I'll be seeing the cherry blossoms – symbols of hope and renewal – as they bloom again in Japan
one year after the devastation.
There's still a long road ahead for Japan, but we thank you for standing with the Japanese people in hope for renewal and recovery.
As I meet face-to-face with the people affected by the earthquake, I would be humbled to hand-deliver your messages of support.
Will you please share a message of encouragement that I can deliver on your behalf?
What questions would you like me to ask of the people who I meet? Please share your messages and questions on our
Facebook post
and watch our
Japan Relief Fund page
for updates.

Gambare, Nippon!
Warmly,

Mari Kuraishi
President and Co-Founder
p.s. if you'd like to help other people like
Hatakeyama-san
restore their livelihoods, we are still disbursing new donations to local partners. Click on the following links to learn more about
our approach to disaster relief
, find out more about
how donations have been used
, or
give
toward rebuilding efforts.
---