Youth Leadership Programme
What Exactly Will You Do During Those 6 Months?
You will do varied activities and training during your six months as part of the GlobalGiving Youth Leadership Programme. On this page you can find all the details of activities and dates.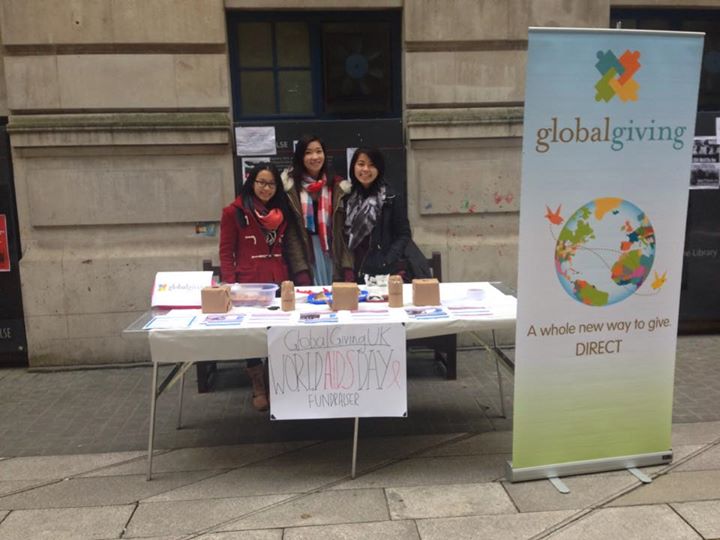 The Programme starts on the 21st October 2015 and finishes 2nd April 2016. Following competitive interviews held at the GlobalGiving office in London, you are divided into teams based on your geographical location in London. In these teams you will complete a range of different experiences, challenges and training & development days.
Your main tasks will include:
Fundraising for a local or international charity projects

Evaluating and working directly with a London based charity

Awareness raising for a specific cause

Facilitating a workshop for school children
These 6 months will be divided across two terms. The first is from October 21st - December 30th and the second term is from January – 23rd April 2016. You will partake in one development day and one workshop in the first term, and two development days in the second term. During the entire programme GlobalGiving UK will provide you with the skills, insights and support to achieve the programme tasks.
Term 1
"I learnt how to organize events, especially fundraising events more effectively and how to message positively to the people to raise more funds and most importantly awareness." Bryan
The programme starts with the first development day in October, with all participants coming to the GlobalGiving head office. This day will introduce GlobalGiving, provide insights into the charity sector, and begin the training in digital communication, fundraising and awareness raising.
After this day, participants embark on the first challenge of fundraising for a charity project – with the support of GlobalGiving staff and mentors.
Two important dates this year are:
21st October 2015 First Development day
24th October 2015 Workshop Launch Event
Activities
Choose a cause to raise 'Awareness'
Fundraising for GlobalGiving Partner Project

Select a partner project from GlobalGiving and develop a fundraising plan
Aim to host an event for this fundraising on GivingTuesday which is 1st December 2015
You can plan as many events or online campaigns as you would like

Visit a London based GlobalGiving Partner

Participate in the evaluation of the charity
Engage/help with tasks and challenges that the charity face
Term 2
"The visit was really enjoyable, we learnt more about how the charity partner works and helped to come up with a communications strategy that would broaden the reach of the organisation. I really enjoyed the programme and would like to thank GlobalGiving for the the training that it provided" Sarah
The second development day, held in spring 2016, focuses awareness raising, further training on digital communication and teaching of best practices and standards for charities.
Following the second development day, participants will be raising awareness for a specific cause and be getting first-hand experience of a London based charity, by evaluating and working directly with one of GlobalGiving's partners.
Two important dates this year are:
23rd January 2016 Second Development day
2rd April 2016 Third Development day
Part 1 - 23rd January – 1st April
Activities
Fundraising for the Awareness Day/cause you selected in your first term
Working in London schools on the GlobalGiving School Programme
Part 2 - 2nd April
The final day of the programme is focused on reviewing what you have learnt, feedback and career planning.
This last development day is focused on rounding up the entire experience. The session is focused on you, and what you gained, what you learnt and what you will do next. It provides an opportunity for you to receive and provide 360 Feedback, have your CV reviewed, have mock interviews, and also have informative interviews set up with people who work with in the development and charity sector.
Activities
Interview practice
CV checks
Informative interviews with professionals in the charity sector
"It was an exciting experience to work with different people that I have never worked with before. Ultimately, what I really gain from this programme is not simply about fundraising but learn to open myself to the others, learn and adapt from each other." Claire