Web Analytics
Web Analytics is a feature designed to give your organization insight into data on your GlobalGiving donation, project, and report activity. Analytics provides the data you need to maximize the effectiveness of your communications and campaigns to generate more funds for your work with the limited time and resources you've got.
From your organization's dashboard, click the link that says "View Analytics" that's at the bottom of the links in the middle of the page – an example of where to find this link on your dashboard is shown in the picture below. If you click on the "View Analytics" link, you will arrive at your Web Analytics page.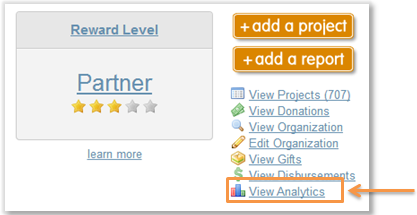 The Analytics Dashboard contains the following information:
Date Picker:Data is available since the beginning of your account with GlobalGiving! Choose the range of dates to analyze. Move the sliders (little grey boxes) to see different time frames.
Note on Smoothing – Near the date picker, there's a little check box that says "Smoothing On?" If you turn smoothing off, your graphs will look more jagged and pinpoint more exactly when the graphs peaked. With smoothing on, you can clearly see when there are trends in your project's activity.

Overview Numbers: These basic statistics to help you understand your organization's progress
Number of Donations – How many times donors contributed to any of your projects
Number of Page Views – How many times your project page was loaded. This number increases any time somebody opens up your project page on any device.
Average time on page – How long your average visitor spent viewing your project pages.

Web Analytics Charts: Visualizations of different data aspects of your project pages. There are four graphs and two bar charts. These graphs are cumulative – they display the information for all the projects under your organization, rather than one specific project.
Number of donations – Shows you how many times donors contributed to any of your projects over time.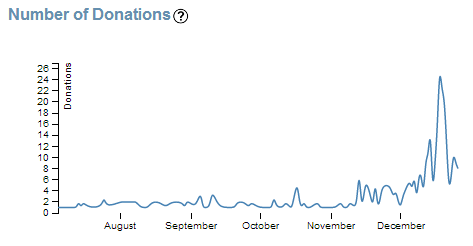 Donation volume – Shows the total value of all donations to your projects in US dollars.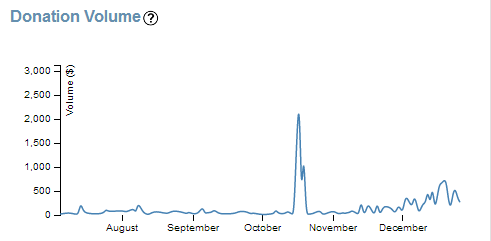 Donation size – Shows how large the donations your project received are (measured in US dollars).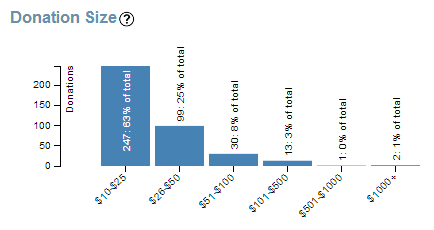 Donation sources – Shows how donors found your project page! Options include: gift card, recurring donation, email, mobile, workplace giving (through corporate partner promotions), search engine, Facebook, project report, and other. This is a huge resource for critical information on what source was successful at converting donors – if you have high project report donation source numbers, then project reports are a powerful tool for you to recruit donors. If this is low, then your previous project reports weren't useful for convincing donors to give (but may have been useful for other helpful information, such as giving them an update on the project or sharing a story of impact that your project has had on the local community).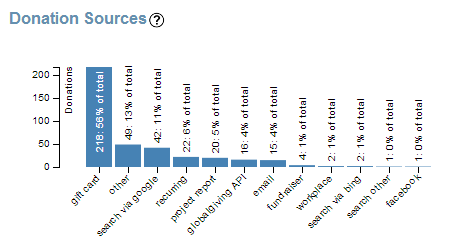 Visitors: How many unique devices are accessing your project pages? Good way to see how many individual people are looking at your project page.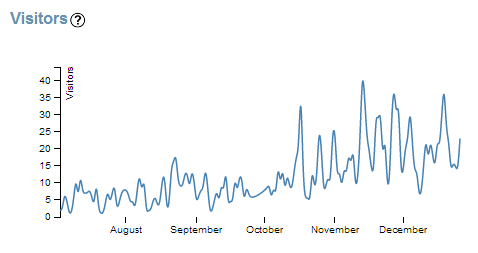 Page Views: How many times did people load your project pages? Good way to see how many times your page was viewed – counts every time that someone, even the same person, looks at your page (or returns to it).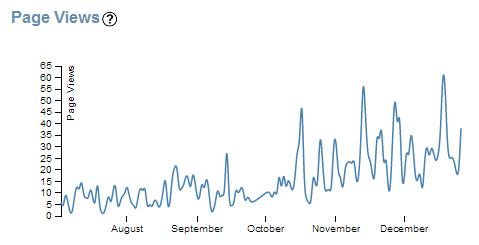 Visitors and Page Views metrics will yield similar results, but usually not exactly the same
Project Report Metrics: Metrics about your project reports for the past 12 months, which provide valuable information that you can use to measure the activity that your reports generated. Report Rating: GlobalGiving rates reports from 1 (poor) to 5 (excellent). This rating is not public and it is intended to provide you with feedback about the quality of your report, compared to others on GlobalGiving's site.
Sent Count: The number of donors that were sent your report.
Open Count: The number of donors that opened the report.
Clicked Count: The number of donors that clicked on any link in your project report. This is the ultimate action that we want donors to take when they read these reports!

How should I use the Analytics Dashboard?
Data allows you to determine how to best allocate your precious time and resources. It makes it possible to maximize the effectiveness of your communications and campaigns to generate more funds for your work. With data, you can set more accurate fundraising goals and measure progress so you can maximize funds to support your mission. Check out this blog post and webinar recording for tips and ideas for analyzing your organization's fundraising activity on GlobalGiving using the Analytics Dashboard.
Learn more about your organization's Web Analytics by checking out your Analytics page.
Questions? Email projecthelp@globalgiving.org your question and we'll follow up with you.