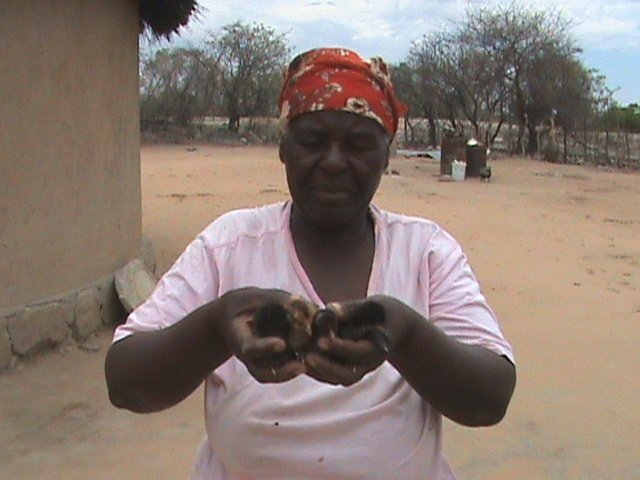 Minenhle is a seven year old girl and Mthokozisi is a nine year old boy. Their parents have passed on and they are now being raised by their grandmother, Grace. They all live in a small village in Zimbabwe called Maphane. Dusty and dry, it is a hard life. But, Grace does well for her grandchildren and thanks to you, they are doing well. Let me tell you why.
In 2012; we gave four hens and one rooster to this family. Of course, prior to this, they had received training on how to care for the animals, along with seeds for a garden. Grace says, "The chicken project has brought some healing to us. We were hurting after the loss of my son and the challenges that came with not having someone who is gainfully employed to support us. My grandchildren enjoy feeding the chickens and I have seen their excitement grow as the flock continues to grow.
We have given back the four chickens and one rooster so that another family can start their own project. What a feeling to be able to help others!!
We have slaughtered eight chickens so far and my grand children enjoy the meat. We are using the manure in our fields, too. My grandchildren say the eggs are tasty and they enjoy them most when we mix them with vegetables from our garden. Our flock has been growing well and at one point we had twenty-one mature chickens. We even sold some eggs to our neighbors because we had plenty."
This story fills me with wonder - how a small gift can change lives so powerfully. 4 hens and a rooster are responsible for food, manure, funds, excitement in the children, and dignity in having the ability to help others. Wow.
YOU are part of this beauty. You may not know Grace and the children, but rest knowing that your gift has changed their lives and the life of the family they helped.
THANK YOU.
If you'd like to find out more about our work, please feel free to email me at tweaver@AFCAids.org. I am happy to share!