Project Report

| Nov 16, 2021
YouthAlert! (YA!) Youth Peace Program KY Update
By Douglas A. Wain | C.E.O./E.D.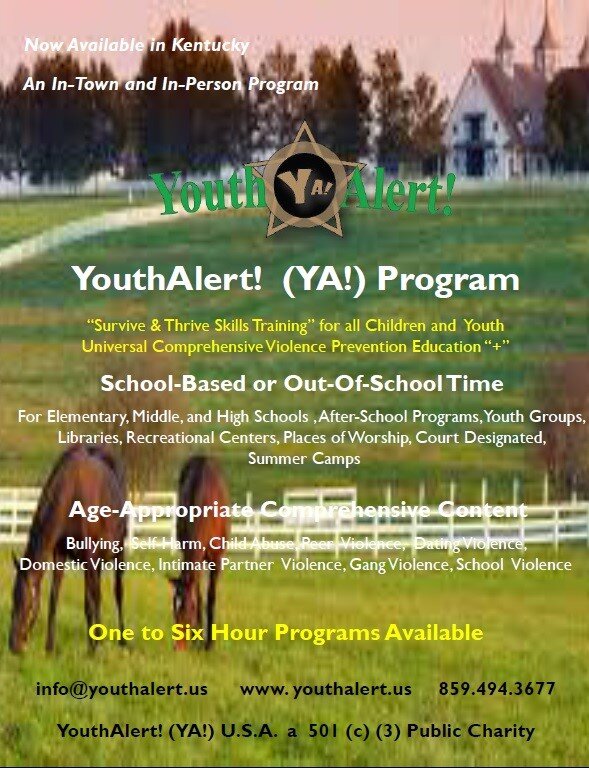 YouthAlert! (YA!) Youth Peace Program is offered to schools throughout Kentucky.
It is "Survive & Thrive" Education and Skills Training for Youth School-Based Universal Violence Prevention Model Practice & Curriculum
A Live, In-Person Presentation, Direct to All Students, by a YouthAlert! (YA!) U.S.A. instructor. Age-Appropriate Programming for those Twenty-Six Years year of age or younger. One to three-day presentations available.
Ninety Units Available Including Bullying, Cyber-Bullying, Self-Harm, Peer Violence, Dating Violence, Domestic Violence, Intimate Partner Violence, Gun Violence, Gang Violence, School Violence, Media, Equity, Kindness
Some of the core concepts of the program is:
All youth are equal in meaning, importance, value, and worth without exception.
It is all youth destiny to live a long and healthy life
Survival is the "Name Of the Game" for youth.
All violence by youth is essential self- destructive
Most hurt themselves rather than get hurt by others.
The best team is an equal youth/adult team. That is what the presentation is.
Most youth are peaceful; therefore, we say to youth, "Don't Change." Youth are one hundred percent innocent and perfect just the way they are
Tomorrow is another day. One day can and often does make all the difference.
All "wars" are "Youth vs. Youth Wars"
We are fighting to end the "War Against Youth" with all forms of violence and all youth
Program Participant History, 80% Teens (60% Middle School Age, 30% High School Age) and 10% Elementary School Age.
The Program is insured, and its presentation personnel is fully vaccinated against COVID-19.
The Program is modeled on the Universal School-Based Violence Prevention Practice, which has been rated "Effective" to "Reduce Aggression" in K–12 students by the U.S. Department of Justice in 2021.
Links: