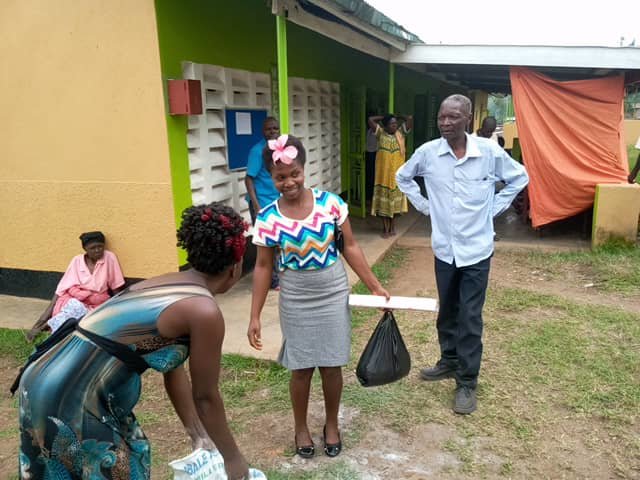 With the onset of the pandemic, our focus has expanded to not only helping students recieve education, but ensuring they are able to access learning in their homes. We are please to provide the following updates since the pandemic swept the world of how our community in Uganda is managing through this crisis. Without continued support, we would not be able to ensure ongoing education for our students.
AAH staff have independently started radio shows, which is accessed by the community. The President's district representative was invited to speak about ways to stay safe, and he also spoke about the importance of safety for women and girls. The radio show has also addressed gender-based violence, and poverty. Community members have expressed their appreciation for the radio show.

Schools: AAH Uganda has taken a strong lead in ensuring students are still able to learn and have access to their teachers and mentors.
Secondary school students were provided with a month's worth of school work. With the lockdown extended, many schools are sending additional work to their students through their parents' phones, and confirming receipt. If there is an issue with receiving the work, the schools are working to get the material to the students.
AAH has made copies of the lessons provided by the government and delivered them either to student homes, or to the nearest pickup point.
AJS provides class work and tests to upper primary students. Every two days, the students complete their work and it is picked up, then replaced with additional work.
The University Coordinator has created a WhatsApp group for older students, so they can communicate with each other. Work is also shared in the app.
The Coordinators for University, Girls' Programming, and Secondary School Coordinator have made calls to parents to touch base with students and ensure they are safe. Calls increased since the shutdown has been extended.
Clinics: Our two clinics remain open. Health facilities and the entire country have been focused on curative rather than preventive measures, but is now prioritizing preventive measures by educating about hand washing and other practices to ensure safety.

Staff: AAH staff are still working and coordinating with students. Because student tuition is paid by parents via wire transfers, this ensures a steady flow of cash, which allows for almost all staff salaries to be made via wire transfers, so staff can be paid quickly and efficiently.
Community Outreach
AAH will be providing food to the most needy children. These children are already identified, teachers and community members will identify others.
AAH will provide food to the most vulnerable members of the community, including patients on HIV and diabetes, orphans, and the elderly.
Looking to the Future
Our Team in Uganda has taken a critical look at current operations and made recommendations to enhance access, to ensure that beyond a pandemic, AAH can respond rapidly and safely to any issues the school may face. These include developing digital platform service for operations as well as e-learning and distance learning, enhancing solar lighting, transportation resources, food security, and enhancing health practices such as hand washing.
We have provided funding to move forward with the solar energy project. This project will provide solar lighting for the Arlington Junior School, the library as well as both of our health clinics.