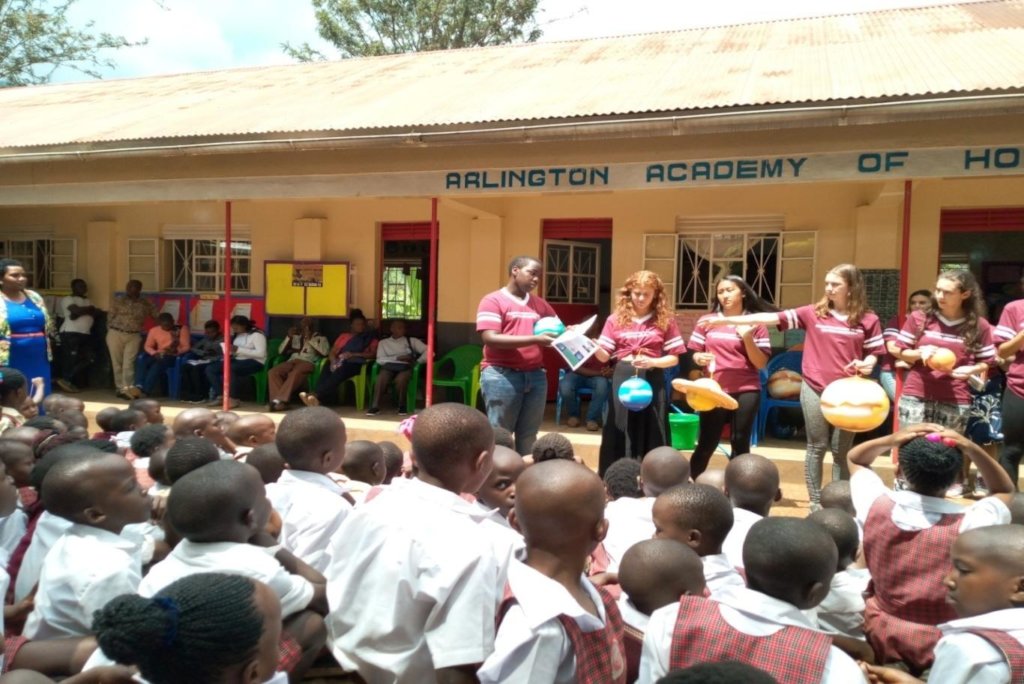 Now in its 15th year, the Arlington Academy of Hope's Reading Challenge continues to nurture a transformative culture of reading in the students of the Arlington Junior School in Uganda. With this initiative, and the ongoing encouragement of the outstanding teachers at AJS, we are inspiring our students to become life-long learners.
According to Head Teacher Sarah Sabano:
Students have found pleasure in reading books because they are fun to read. Books help them to learn more vocabulary, get new friends and stop boredom. This year's theme is Blast off to Learning. Everyone is excited to read more and more books.
On the day of the reading challenge launch, our students participated in numerous activities: naming the planets, reciting proverbs and poems, singing songs, and even staging a talk show based on the reading challenge. They had fun competitions a book search, word puzzle, spelling bee, tongue twisters, dictionary use, skits, arranging words to make sentences and other fun activities.
The Reading Challenge is yet another wonderful example of how The Arlington Academy of Hope welcomes the hearts and hands of our beloved volunteers. The program was introduced to AAH by founding board member Holly Hawthorne, principal of The Arlington Traditional School here in the U.S. Former ATS teachers Lorraine Gandy and Lois Grubb have been graciously donating their time and resources for years, authoring and printing original content for the reading challenge activity books each year. Cynthia Margeson - also a former ATS teacher and one of the first Head Teachers for our primary school in Uganda - has been intimately involved in the Reading Challenge from the beginning. This year Cynthia orchestrated a used book sale to raise money for Uganda-bound books.
And finally, this summer's Reading Challenge was successful due in large part to the enthusiastic participation of this year's Teen Trip cohort. This dynamic group of 14 young adults, the largest group of teen travelers to date, traveled from the US to Uganda and spent more than two weeks teaching in classrooms, volunteering in clinics, visiting students and their families, and helping to spread the love of reading to yet another generation of life-long learners.