Dear wonderful donors,
What a terrific year it has been down here in the rainforest and we want to let you know that things are going gangbusters, and we couldn't do it without you. So first of all, a big thank you to each one of you for being right behind us as we do what we can to get our local school kids excited about science! And secondly, GlobalGiving is giving out prizes the projects that raise the biggest number of regular donors. So if you'd consider becoming a regular donor that would be more than wonderful!
And now a quick overview of the year. We've had our ups and downs - days when the school bus didn't run and the kids missed out, days when our communications went down and things went wrong. But we're raising a new generation of young environmentalists who are becoming increasingly engaged in environmental activism, in getting their hands dirty, in visiting farms and planting trees, in understanding how forest cover restores water resources and how the carbon cycle operates. And that makes it all worth it!
Over the past few months our Eco Leaders took part in the fair of science and traditional knowledge, hiked through dense forest to the top of Itajuru mountain, and made visits to the recycling plant, the local hydro station and the water company. They were enthusiastic participants in a school-wide workshop on climate change, and also attended community meetings to discuss the environmental and social effects of bauxite mining.
And now we've stopped for the summer break and will be back on the job in a few weeks time. In the meantime we're raising a pair of baby toucans who fell out of their nest, so life goes on! Stay tuned for new developments, and thank you, thank you for your support!
rainforest best wishes for a wonderful holiday season,
Gui, Toni, Binka and the Eco Leaders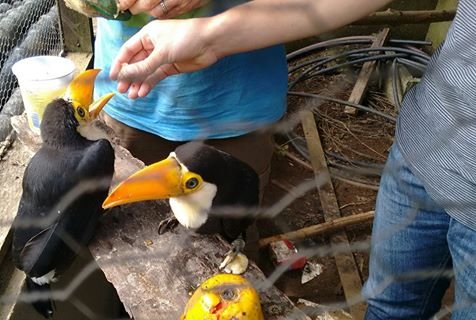 Links: