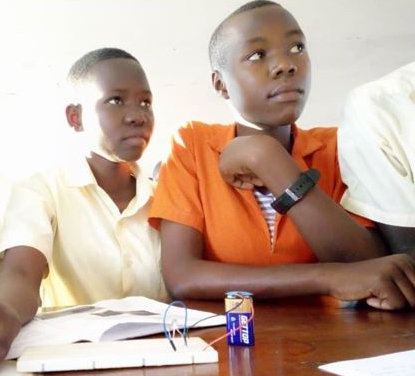 Introduction
The Yiya team has had a very busy quarter! We welcomed our newest team member, ran a capacity-building training for our field team, taught an engineering unit in Term 2 with our Yiya partner teachers and students, hosted a visitor from GlobalGiving, and taught an engineering camp for a local community center. Yiya was also honored by the Obama Foundation and the US Embassy to Uganda!
Introducing Sheeba Niwensiima!
From Mbarara, western Uganda, Sheeba is a young innovator and a community activist who earned her Bachelors in Computer Engineering at Mbarara University of Science and Technology. She is deeply passionate about how technology can positively transform communities, with experience both as a Tech Educator in Robotics and a tutor for embedded systems. She also works on various project teams as the technical personnel some of which are in partnership with CAMTech Uganda. Sheeba is the Innovations Fellow at Yiya, and we are so thrilled to have her on the team!
Yiya mini boot camp
This spring, we conducted a 2-day bootcamp to adequately prepare our field team to be able to effectively conduct our Term 2 STEM unit in our partner schools in northern Uganda.
The boot camp helped our team to discover everyone's strength and weakness and develop concrete steps for how to support one another in the field. Members practiced lessons in the Term 2 STEM unit (making bicycle powered phone chargers) to receive feedback from each other about their facilitation skills. By the end of the training, everyone had created a clear plan for how to team-teach Term 2 lessons in the field. Want to learn more about the bootcamp? Click here to see the agenda
Term 2, Classroom teaching support: Making bicycle powered phone chargers, STEM unit
Why this unit?
We designed this unit for students to apply the knowledge they learn in class from science and mathematics subjects to design a technology that will enable local people from villages in northern Uganda charge their phones or torch batteries off the grid by simply pedaling their bicycles. This is a major step towards helping people from over 75% villages in Uganda that have no access to electricity power their basic household devices easily and inexpensively. Cars may be scarce in rural Uganda but every family has a bicycle!
The underlying goal of this unit is to empower students to view themselves as engineers who have the knowledge and skills to design technologies that solve problems faced by their communities.
How the teaching went
We implemented this unit in all our partner schools on a total of 300 students. Each of these 300 students were challenged to train 2 of their peers at school on how to create the technology of the bicycle powered phonecharger as a requirement for certification at the end of the year.
All our selected students received engineering journals (STEM booklets that we design for students to do research and to record their ideas during experimentation) and a set of engineering materials (1N0047 Rectifier diodes, resistors, capacitors, 7805 Voltage regulators, jumper wires, breadboards, PCB boards, dynamos, etc)
Once every week, at a time scheduled on the school timetabled by school administrators, our team went and co-taught this unit with teachers at partner schools.
Find here an overview about all lessons in our bicycle powered phone charger unit.
Leena's visit
In July, we were also honored to have a field traveler from GlobalGiving, called Leena, come to visit us to see our team in action. Leena had a meeting with our Director of Operations in Kampala to learn more about Yiya and to make a plan for traveling to the field up in Northern Uganda to observe STEM lessons in partner schools.
She observed Yiya STEM classes at two partner schools: Leo Atubo College, and St. Katherine Girls Secondary School. Leena was so impressed by our REAL teaching methodology. She also liked the passion that students in our program, particularly girls, have for science. In her focus group discussions with girls at St. Katherine's, one student Rebecca, told her that before Yiya came to their school she never liked science subjects and couldn't easily understand certain concepts but now she finds science very interesting. Rebecca now wants to be an electrical engineer!
Community center engineering camp
In Aug and Sept, we ran an engineering camp for high school students at a local community center that supports underserved students on the outskirts of Kampala. In Uganda, Aug and Sept are the months of school break between Term 2 and Term 3. This is a crucial time for students to receive additional educational support through exciting enrichment camps and skills trainings. Many at-risk students come from families with few means to send them to these kind of educational camps so we here at Yiya were thrilled to be invited to run an engineering camp at the community center over this school holiday break for their secondary students! The community center requested that we teach the bicycle-powered phone charger unit (by far our most popular engineering unit!) to a group of 40 of their students, who could then provide financial support to their families through using their phone chargers to generate income. The Yiya trainers and students had a great time over the course of the 3 week camp and at the end, the students did a formal showcase of their technologies to other students at the community center. So many students in the showcase audience were excited about the bicycle-powered phone chargers that the students in the Yiya camp had to promise to teach everyone how to make them! The highlight of the showcase was when each team of students plugged their phone charger into the phone, started pedaling the bike, and the battery symbol lit up. The phone was charging! Everyone cheered! It was so exciting.
Yiya honored by the Obama Foundation and the US Embassy in Uganda
Last but certainly not least, Yiya Director of Operations and Co-Founder Samson Wambuzi was honored as a 2019 Obama Africa Fellow. He attended the Obama Africa Convening in Johannesburg, South Africa in July, where he met the other 2019 fellows and a number of inspirational leaders and mentors. He even had a 1-on-1 mentoring session with Ben Rhodes, Mr. Obama's former speech writer! Samson continues to learn valuable leadership skills during the monthly meetings that he has with members of his Obama Africa cohort.
This September, Yiya received the 2019 US Ambassador's Special Self Help Fund grant from the US Embassy in Uganda. At the award ceremony, Yiya Co-Founders Erin and Samson met the US Ambassador Dr Deborah Malac who appreciated the Yiya team for having 61% girls in our engineering program! We are very grateful to the Ambassador, the US Embassy, and the US government for supporting our Yiya teachers and students to continue engineering solutions for their communities!
What's Next for Yiya?
In Uganda, Term 3 of the school year has just begun! Our field team is working hard to ensure that all students at our partner schools are ready for the 2019 Annual Yiya STEM Showcase which will be held for the Lira community on November 9th. Our partner schools will spend the rest of September and all of October putting the final touches on their technologies in preparation for the showcase. We are inviting parents, community members, and many special guests from government, private companies, nearby nonprofits, and local universities to come join us for this big annual event!