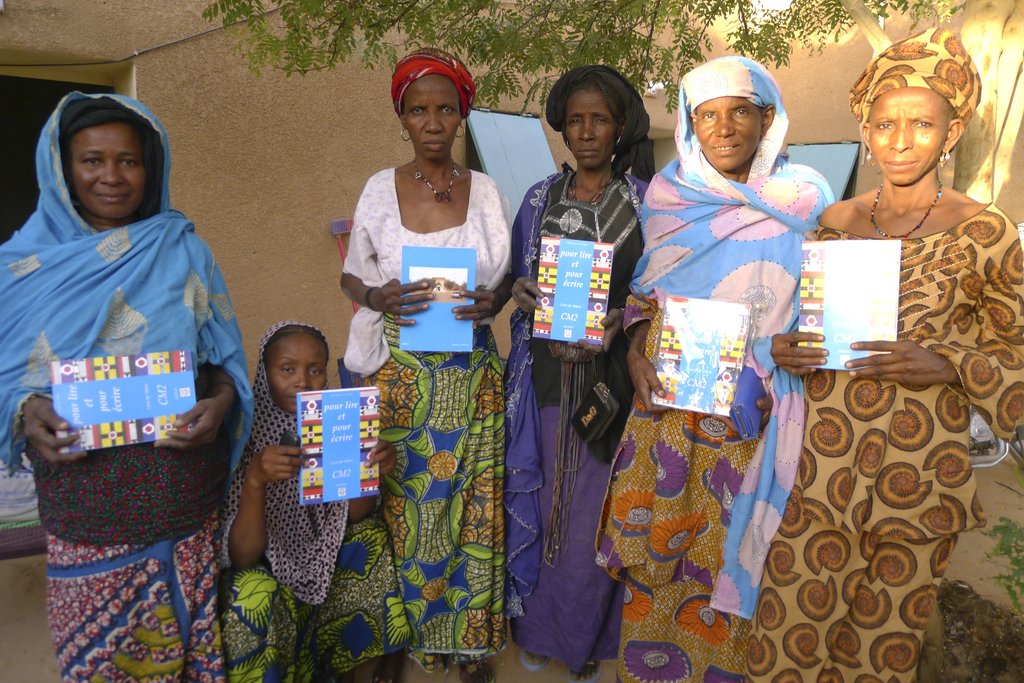 Artisan cooperatives provide a way for rural women to draw upon their rich heritage that generates income and preserves nomadic culture. RAIN provides seed money, skills training, design and marketing consultation, and marketing opportunities in both Niger and the U.S. The women develop and hone their skills, bringing their earnings together to support their families and fund local schools, providing books, medicine, food and uniforms for students.
The women who make up our cooperatives start without knowledge of how to measure, follow a pattern, or conduct basic accounting. Already talented, these artisans hone and refine their abilities to become true professionals able to trade with the modern world while preserving the traditions that define each group's unique identity. The success of RAIN's artisan cooperatives has inspired a variety of small business enterprises within our partner communities - new livelihoods that are culturally appropriate.
The Wodaabe embroiderers of the BARKA co-operative of Foudouk have started down the road of independence - taking the skills, designs and marketing knowledge with them as they produce a line of tote bags, purses and clothing for local and regional sale, including annual festivals through SAFEM, the national crafts association.
The 16 Tuareg women who make up the Albaye leather cooperative in Agadez teamed up with FAHRA (meaning: "better lives") - a group of straw weaving Tuareg artisans in Ingal. This collaboration has resulted in beautiful bags in leather and straw, not possible for these two groups on their own. Since this training and collaboration, a line of products has been established for the artisans to perfect and market and includes "tea sac" style drawstring leather bags, straw and leather tote bags, and decorative straw platters.
Illiah Addoh, Director of Artisans at the National Museum in Niamey, worked with the artisans to teach what many had lost: the traditional design techniques of their culture. Illiah instructed the artisans in traditional designs, how to measure and follow patterns, and worked with them to perfect modern takes on their designs that are of high quality.
This winter, the women of Albaye and FAHRA pooled their earnings to purchase French books for local primary school students about to take the important government exam that will determine if they can progress to middle school. Rural and nomadic students struggle with French, though as the national language, fluency is required to succeed in Niger, it's rarely used in village schools. The women also purchased food and medical supplies for the students.
School supporting funds donated by FAHRA: $300
School supporting funds donated by Albaye: $500
(In Niger, these amounts are quite significant).
Meanwhile, RAIN has initiated a new co-operative with the Seiga community in the southern Tilliberi region. Straw crafts are practiced among the Bellah (a class of former Tuareg slave families) with specialized metal, wood and leather work created by Inaden Tuareg blacksmith families, selling to local markets in Bankilare or Tegue. With RAIN's help, these artisans will establish a boutique for supplies year round and work closely with Illiah to produce a group of products that are both traditional and appealing to wider markets.
The goal of all of our programs is self sustainability leading to new paths that are independent of RAIN. With your help, the Wodaabe artisans of Foudouk have achieved this goal, with the Albaye and FAHRA artisans close behind. We are fortunate to have the support of One Day's Wages for the Seiga artisan project. In light of this, we're closing the artisan project on GlobalGiving for the time being. We truly value your caring acts of friendship and hope you might be inspired to continue your support of RAIN and the nomadic women in Niger we call our partners.
Many nomadic women in our Mentoring Program mentor girls that are at-risk of dropping out of primary school - advocating with parents, providing health education and guidance, and teaching the girls traditional skills to become future artisans. The mentors benefit as well from literacy classes, small enterprise opportunities and savings and loan groups as they become "wise women" in their communities. To learn more, visit our Mentoring project page.
Please stay in touch with us on Facebook and at by signing up for RAIN News.
With deepest gratitude,
Bess Palmisciano
Executive Director
"RAIN is the only organization in Agadez that recognizes and promotes the traditional work of women artisans." - Ouma Amaa, head of the RAIN Albaye Cooperative and President of Agadez artisans.