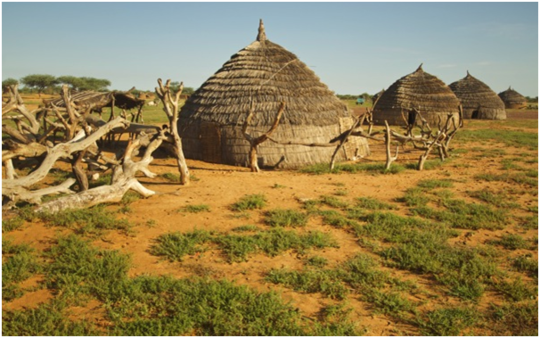 Last Spring, we shared with your our budding partnership with the three small hamlets surrounding the seasonal Lake Seiga: Tooro Tondi, Seiga Baani Koira, and Belkou, in the southern Tillaberi region of Niger. Comprised of nomadic herders of cows, goats, sheep and camels, these villages are now primarily women, as the men migrate in search of pasturelands or work. Seiga was highly impacted by drought in 2013-14, their food stores and household incomes at an all time low. This last year has seen the transformative development of wells, gardens and a mentoring program for the three communities. Most exciting of all is the start of our partnership with regional artisans. Developing income generating activities for women results in greater economic influence in their household. Sales from craft products provide mothers with funds to supplement household needs, such as more nutritious food, clothes for their children, and money for medicine and education.
The Tuareg people of Seiga have a strong artisan tradition in a variety of crafts using wood, raw metals, akof (palm fronds), tezawen (reed grass), leather, naturally produced dyes, yarn and mirrors. The Bellah (class of former slave) women of Seiga primarily work with reed grass to create baskets and elaborate decorative mats that may be used as placemats, trivets or home decor. Very few women have the knowledge of how to make the most elaborate item, the Teydeyint decorated tent wall mat. There is a great variety of designs for the teydeyint and the efartay (smaller decorative mat) that may be adapted for a variety of different products. Along with the Bellah people in Seiga is a smaller number of Inaden families, members of the Tuareg crafts class who specialize in metal, wood and leather work.
Previously, Seiga artisans were only able to produce when they had the means to purchase the raw materials in local Bankilare or Tegue markets, due to limited funds and desertification in the region decimating the bulk of collectable local resources. This method of acquiring materials was subject to seasonal availability - most notably, the reed grass needed to produce their traditional decorative mats. To remove this obstacle, a storage shed is being constructed to allow for the purchase of supplies when they are at their lowest price - making it possible for the artisans to stock what they need to produce all year long.
Illia Addoh is a master leather artisan of the National Museum in Niamey. He has had success leading trainings and workshops with RAIN co-operatives, including the Tuareg leather artisans in Agadez. His expertise will bring the Seiga artisans together to form a co-operative, pooling their resources as they build their capacity, access to markets and production quality. Trainings and workshops in new designs will introduce new products into the local markets and open the door to markets beyond Niger. A shade hangar will foster collaboration, reinforcing the solidarity of their group, both socially and economically.
Up next: photos and personal stories of how your caring support has made such a difference for the people of Seiga!
Examples of Bella crafts:
Efartay: small decorative straw mat
Teydeyint: large decorated tent wall mat.
Leyfey: winnowing pan
Lgaraygaraya/Isanam: decorated hanging leather panels
Inaden examples:
Adefur: leather pillow
Agadut/Agalagut: leather bag to hold water or butter
Tebawunt: large leather decorative travel sac for camels
Decorative spoons and spice mortars