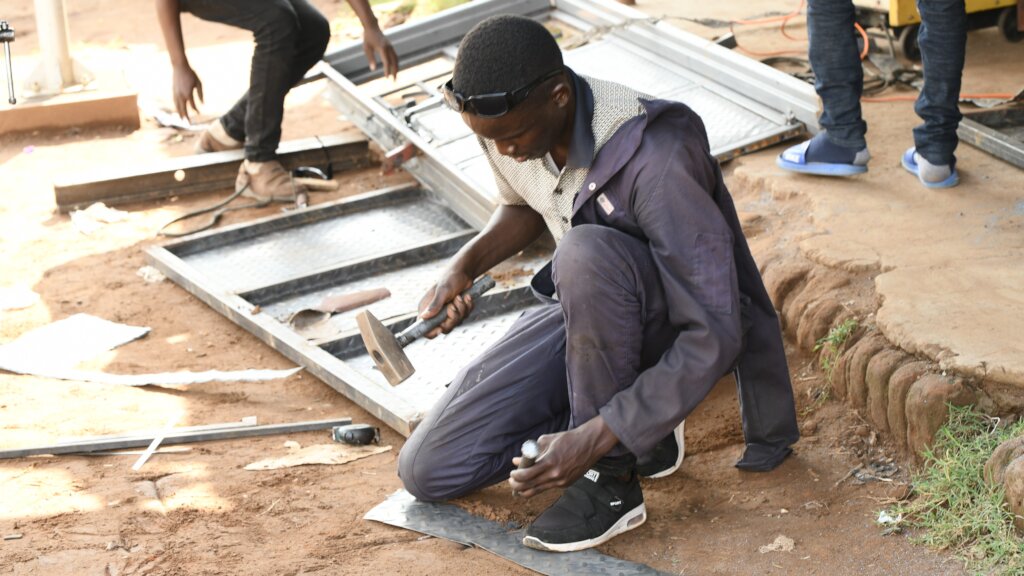 Last year, when our country was under a total lockdown because of the Covid-19 pandemic, I observed how most of the people who were doing salaried jobs were stopped from working by the government. Life became so challenging for those depending only on the salaried jobs they were doing. I saw most of the salary earners sitting home and not working. I sat in my room and I began asking questions: How long will the Covid-19 virus take to disappear? And since there was a total lockdown in my country, how will I survive?
As I was taking a walk around the small town where I was, I observed most of the people doing artisanal based businesses were doing their work in the midst of the pandemic. They were working and were able to provide the basic needs of their family in the amidst of the pandemic. One morning, I inquired from some of my friends on who will easily train me. I thank God that they directed me to a young adult owning and managing his welding plant. When I went to the welding plant and expressed my interest in joining a welding training class, I was warmly welcomed.
The first day l reported for training, I was asked what level of education I had reached and I said: "I am a university graduate, a degree holder, who is interested in learning the life skill of welding." This was a great shock to my trainer. He replied to me: "You are a graduate and I am only a Senior Four (secondary school) dropout, how will I manage to teach you since you are of a high education level than me?" I replied: "Here you are my teacher, and at the same time you are my boss, and also my trainer, and I am your student." The trainer laughed and said to me: "You are very true."
My teacher then cautioned me: "Here is not a school, but it is where we do practical work. The good thing with this training is that you earn money as you learn." He then tested me. I started by being sent to carry welding equipment and tools that were outside to bring them in the store room, which I did. As I kept coming and availing myself for training, my mentor began to be very free with me.
I share my testimony of how I became a welder, because I want to inspire other young people from disadvantaged communities not to feel like they have failed in life if they are unable to get 'white-collar' jobs. I want them to appreciate that they can make sustainable livelihoods from artisanal work. This is something I would not have thought about before I joined the CPAR Uganda Mentoring Young Adults into Innovators Agaist Poverty project.
The CPAR Uganda mentoring programme has opened my eyes and I want to do more in facilitating processes that will bring positive change to our disadvantaged communities. I am happy that when I approached our mentor, the CPAR Uganda Managing Director, with my desire to establish a welding plant in order to mentor other young people, she welcomed the idea. And CPAR Uganda has already allowed me the use of one of its centres - building and land - to transform into an artisanal centre, under the mentorship of our Managing Director; and for this support in kind I am grateful.
I am also grateful to all those who have already made a financial donation in support of equipping me with the necessary machines and materials that I need to start a welding plant through which I will provide apprenticeships to youths of a disadvantaged community to gain life skills in welding. I ask others to please donate to this noble cause; a sure way in which to fight poverty at household level in rural Uganda. Thank you.