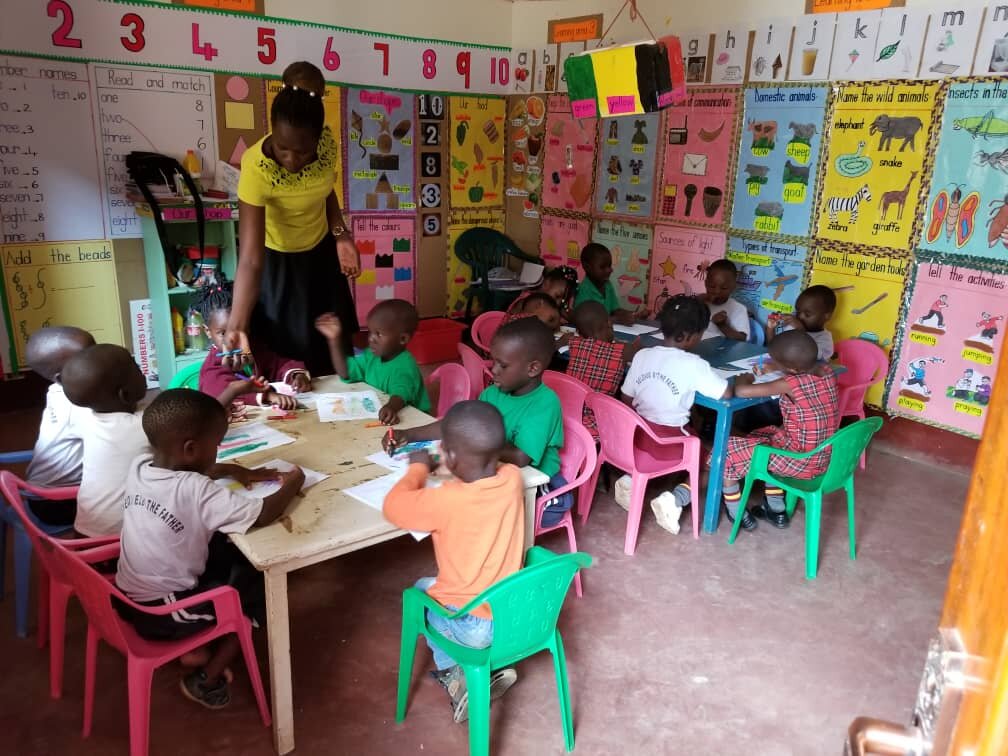 Hooray! Hurrah!! At last SAM is open and the children are back in school!
I can hardly believe that I am able to write these wonderful words! Yes, it really is true!
SAM is open again after the longest school lockdown in the world - 83 weeks compared to India's 82 and USA's 71, and so much longer that the Dutch 31 weeks and UK's 12 weeks. 15 million Ugandan children have lost almost 2 years of schooling, although a privileged few were able to benefit from learning online. Approx. 3,300 people have died from Covid 19 in Uganda since the start of the pandemic, and every family has been affected in some way.
We are so proud that all our dedicated teachers and staff returned to work on 10th January, the historic day that schools re-opened. This has only been possible due to the generosity of you, our donors and supporters, who contributed to the Emergency Fund that we put in place to pay our staff at least 70% of their salary through the long months of closure. Many schools have had to lose staff, or close altogether, and there is great uncertainty for others. Significant numbers of teachers have not (yet) returned to work as they had to find new means to support themselves and their families financially through the pandemic and can't afford the uncertainty of returning to their schools with the risk of not getting paid immediately. Our staff tell us they feel very blessed to have received their salaries, and all the additional support we have given in them in food and Christmas packages etc. They have all returned with enthusiasm and determination to do their absolute best for the children in their classes.
Here are 2 links to videos of the children returning to school and in class. Don't miss their excitement, its great!
Back to school
https://www.facebook.com/Kinderhulp.Afrika/videos/350769803178390
SAM class
https://www.facebook.com/watch/?v=655695199121144
I am also delighted to report that we now have 49 children attending SAM, all receiving vital education and guidance again. We have a further 402 children in the Samaritan Primary School, which is 112 more than in our primary classes in 2019. The senior school has seven additional students, making an extremely healthy total of 560.
I will write a new report before the end of March, with lots of detail on how everyone is coping with the challenges ahead, and with the children's progress, and I'm confident that we'll have some very positive and uplifting stories to share!
For now, enjoy these great pictures…
SAM is once again full of bubbly, happy children and the campus is open and bursting with vibrance and energy!
We are all "Looking forward to better times in 2022!"
Our Motto, "FROM HELPLESS TO HOPEFUL"! has been dusted off and is back in action!
Thank you for all your support through these difficult and bizarre times.

Please visit our website for more information and regular updates: https://www.kinderhulp-afrika.nl/en/

If you have any questions, please do not hesitate to contact the office via the website or myself personally, jill@kinderhulp-afrika.nl, I would love to hear from you.

Jill van Leeuwen.