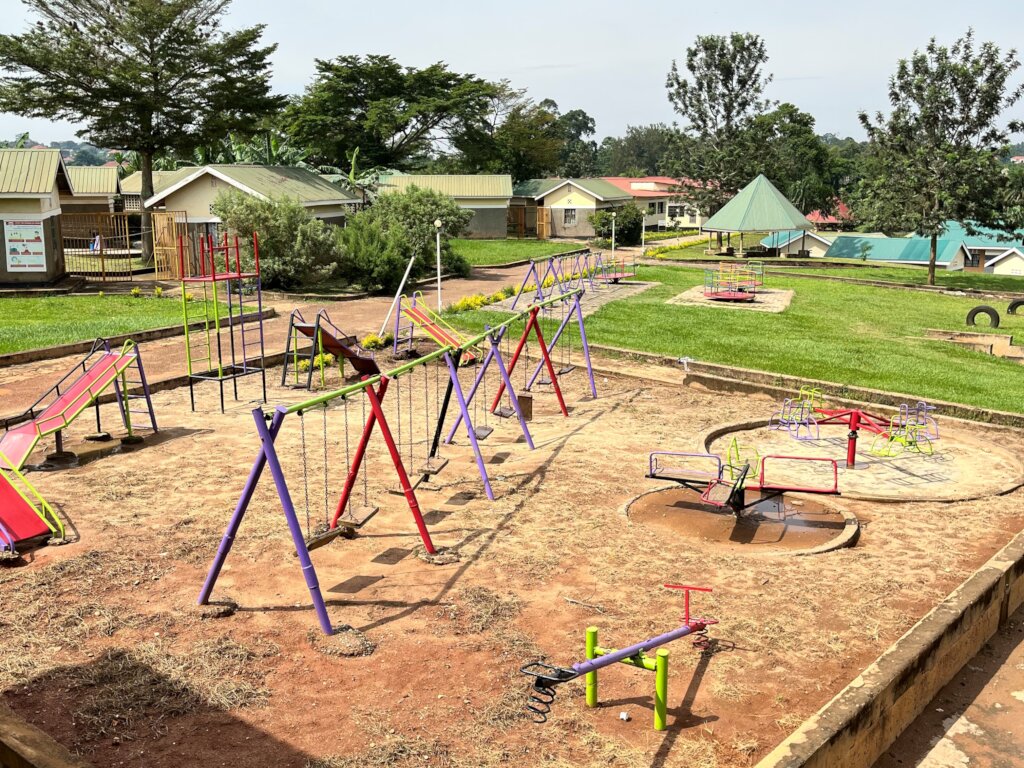 The SAM buildings have now been eerily quiet since the start of the coronavirus pandemic in April 2020. None of our facilities have been allowed to re-open, not even for key workers' children, so sadly I still can't bring you news of our children's progress or happenings at SAM etc.
However, there is hope that in early 2022 there will be the buzz of young voices eager to learn in both our primary and secondary school classes. We have tentative plans for the campus to re-open on a staggered basis, although we will have to wait and see what the Ugandan Ministry of Education decides.
In the meantime, our dedicated teams of teachers and child-care assistants have been trying to keep in touch with all our children, and to encourage parents to help with their children's learning and development. As we all know it is more and more difficult to keep everyone motivated and morale high, especially when there is no definite end date in sight. We are continually trying to find ways to help the SAM and other staff members still living on the campus to support each other as families, and to help each other with their children in these uncertain and very stressful times.
The fact that the SAM staff, the teachers and the more than 100 employees at the Children's Welfare Mission have continued to receive 70% of their salary makes a crucial difference, and we are so grateful for our donors' fantastic support that makes this possible.
Many of the staff were delighted to finally receive a recent visit from 5 of the board members from The Netherlands. They were able to see for themselves the impact the pandemic is having in Uganda and at the project and to see all the work that has been done at the campus in the meantime. Thankfully one of the them was able to have some fun with a few of the children who live on the campus.
The costs continue and we are struggling to make ends meet…

Along with every other charity, the coronavirus pandemic is affecting us deeply.
The closure of SAM and our schools since the spring of 2020 has had a major impact on our income – particularly that from the fee-paying Ugandan parents, which significantly subsidizes the school fees for our sponsor children. Most of that income has evaporated, yet we remain determined to pay all our staff. Despite making all the cuts and savings we can our emergency funds are dwindling fast ... so now more than ever your help is needed to bridge the gaps for a little longer… so that all our employees can welcome back, support and take care of our children when we can re-open.
At the moment, £4,000 is needed just to pay the SAM bills and £40,000 for the whole organisation.
Worldwide 'Giving Tuesday' – 30th November
It is wonderful to receive donations on any day, BUT on Tuesday 30th November donations go even further as GlobalGiving has ONE MILLION DOLLARS to share out proportionally to increase the donations made to all its projects!

IF YOU CAN MAKE YOUR DONATION ON TUESDAY 30th NOVEMBER - IT WILL HELP SAM AND KINDERHULP AFRIKA EARN A LARGER SUM FROM THE MILLION DOLLAR FUND!

Click here to give: www.globalgiving.org/42553

#GLOBALGIVING 42553, #MoveAMillion.

You can donate in $, £ or €!

'Giving Tuesday' lasts a full 24 hours and starts at:
midnight ET in the USA,
5 am GMT in the UK,
6 am CET in Europe.

Climate friendly and Coronavirus proof Christmas Presents!

Look no further! Sending a GlobalGiving Gift Card and asking the receiver to support SAM is an environmentally sustainable and long-lasting gift… plus it's easy!
Just click this link: https://www.globalgiving.org/gifts/ to buy and send your cards digitally. The recipient can then choose which project to support, so it's very important that you kindly ask them to donate their card to SAM! www.globalgiving.org/42553
"FROM HELPLESS TO HOPEFUL..."
Helping disadvantaged children, supporting the wellbeing of their families and therefore impacting on the local community, is why we all work so hard. In Uganda and in the office in the Netherlands, we are determined to keep on helping individuals and families in need, the little ones at SAM, the pupils in the primary and students in the secondary and vocational schools, and all the staff and patients at the clinic. Working to bring our slogan "from helpless to hopeful, give a child a chance!" to life, and give it an even broader meaning!

Thank you!

Thank you for your support and continued interest during this very difficult and frustrating 2021. If you can't give now, we of course understand, and would be grateful if you can help us by sharing the link and telling your friends about the work we are doing and all that we are achieving in Uganda.

I would like to take this opportunity on behalf of all the staff at SAM, the Children's Welfare Mission and Kinderhulp Afrika to wish to and your family a Very Happy Christmas and Best Wishes for a healthier, happier, and safer 2022!
For all of us, "FROM HELPLESS TO HOPEFUL"!

Jill van Leeuwen.

For more information visit our website: www.kinderhulp-afrika.nl/en/