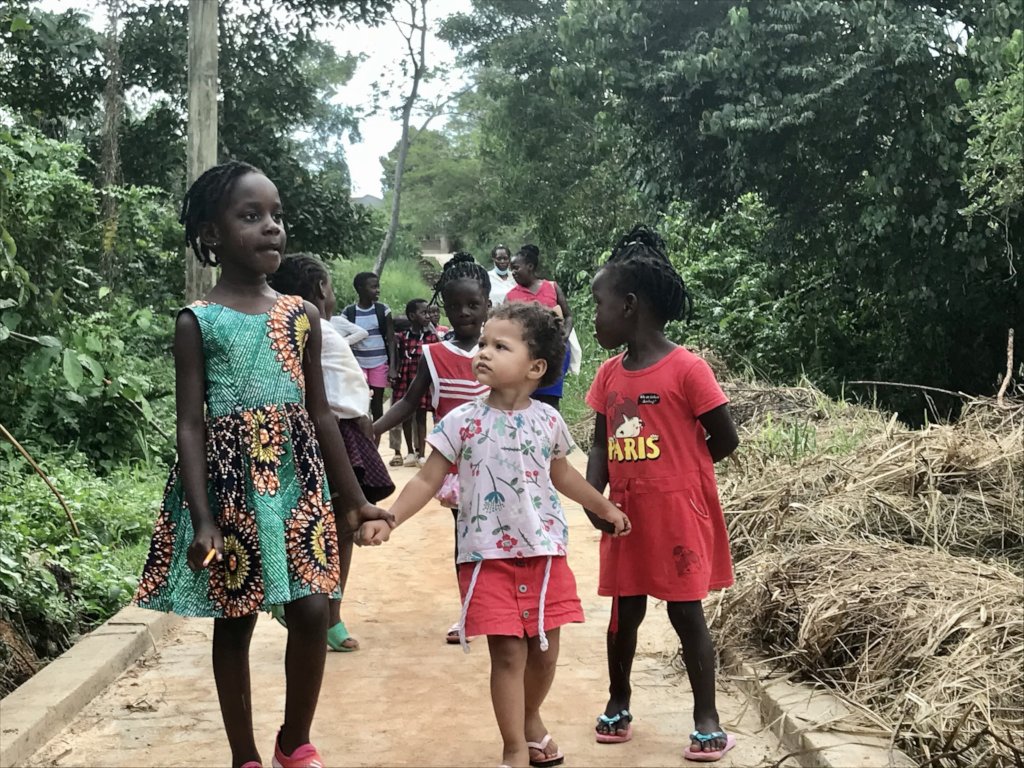 Uganda is still in the grips of the global coronavirus pandemic, and SAM remains closed, but thanks to the continued support of our wonderful donors we have been able to continue our work with SAM. Vital support has been given to staff by paying them 70% of their salary, and we've been able to provide older pupils with online teaching and learning materials.
The primary and secondary schools partially reopened in October and welcomed back the students taking National Exams. On 1st April more classes will reopen on a staggered basis. At the moment the roadmap is unclear as to when day care centres and kindergartens will be able to reopen, although we are hoping that the children who were ready to start in the main primary school will be able to do so very soon.
Our dedicated teachers have continued following up on the children's education progress by sending work to them online during the first lockdown. Children unable to access the internet but living close enough to the campus have started to have work delivered now that transport and essential workers have been allowed to resume working. Work for children living further away has been via the internet or collected by their parents. The SAM teachers have also been teaching and providing support to the younger children living on the campus and in the immediate neighbourhood.
A surprise awaits the children!
As mentioned in our September report, the maintenance team have been taking advantage of the quiet campus to do jobs that are very difficult or unsafe to do when so many children are around.
We are really pleased to be able to report that a new path up to SAM from the main campus is nearing completion! This very steep path is the route up to SAM for the children and staff, and is also the back entrance to the campus that is used daily by staff and students of the primary and secondary schools. Patients attending the clinics on site also use it, and it used to be a grassy dirt track which would get very slippery whenever it rained.
The new path is 210 meters long and 2 meters wide, so a vehicle can now safely use it in an emergency. We have used paving stones that are hand made on site and then set into a concrete base. This is one of the best and most effective ways to construct paths in the tropical climate.
Wouldn't it be great if this path could be finished before the children return?! Your support can help us get the job done and make a long-lasting impact.
Our total budget target for this work is £4,500. It costs £10, (€11, $13,25) per square meter of paving, so a kind gift to pay for just one meter of path will really make a lasting impact for everyone using the campus for years to come.
Next week GlobalGiving is hosting a 5 day 'little x little' matching campaign. Each donation up to $50, (or the first $50 of a larger amount) will receive a 50% match. BIG change can come from your little acts of kindness! Please be sure to tell your family and friends – GlobalGiving have promised that the matching funds will not run out – every single donation will go 50% further!

The campaign begins at 5 am GMT, (6.00 hrs. CET) on Monday 8th March and runs until midnight on Friday 12th March.

You can donate online any time during these 5 days at: www.globalgiving.org/42553

We will post a reminder on our Facebook page: www.facebook.com/kinderhulp-afrika

As we have said earlier, your support is helping us make improvements to the safely and wellbeing of our needy, vulnerable young children and their incredible staff at SAM, and to benefit everyone who uses the campus.

For more information visit our website for regular updates: https://www.kinderhulp-afrika.nl/en/

If you have any questions please do not hesitate to contact the office via the website or myself personally, jill@kinderhulp-afrika.nl, I would love to hear from you.