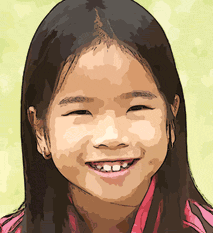 As we draw 2011 to a close, we are pleased to take a look back and the work that has occured in our dental clinics. In 2011 alone, our dental program served over 8,000 community members in need with vital dental care. Of those 8,000 patients, 6,000 were children with no other option for care.
Virginia Garcia's Dental Director shares a story about one of these children:
In 2008, I began treatment with a little five-year-old named Mai, who had extensive dental problems. She was frightened when she arrived at the clinic and was subsequently very uncooperative during her exam. Her mother begged us to try treatment on her as she'd just had dental work done at a pediatric dental clinic, and the family was unable to afford further treatment there. I was hesitant at first and started by recommending that she see a specialist in pediatric dentistry.
Mai's mom insisted that we try, and as the family had no insurance and little resources, I agreed to help. I recommended that we try nitrous oxide (laughing gas) during treatment. We struggled for the first few appointments, but after coming in a few times, Mai relaxed and became more cooperative.
After six months and multiple visits, I am pleased to report that we were able to successfully complete her extensive treatment. Her mom is thrilled because she can actually afford to bring her in to see us here at Virginia Garcia and Mai is now pain-free and on her way to improved oral health.
Three years later, I still see Mai for her regular check-ups, and she no longer suffers from acute dental problems. Her mother understands the importance of routine care and she can afford to bring her to us. It is rewarding to see Mai arrive, always with a big smile on her face. She no longer needs nitrous for any treatment and she has lost all six stainless steel crowns as her beautiful white permanent teeth come in.
At Virginia Garcia, we understand the value in providing treatment to kids who may not have anywhere else to turn. Our dental providers routinely work with children and help them to overcome their fears and achieve—many for the first time—a pain free mouth and improved oral health. With our emphasis on educating the whole family on how to care for their teeth, we can make a real and lasting difference in the lives of our young patients daily.
-Dr. Lisa Bozzetti
Links: